Each year from September 1, the World Day of Prayer for Creation to October 4, the feast of St. Francis of Assisi, Christians all over the world are called to unite in prayer and action for our common home.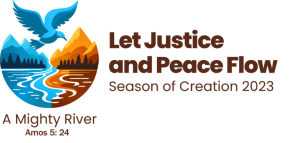 The theme of this year's Season of Creation is Let Justice and Peace Flow, based on Amos 5:24, where Amos uses the image of a mighty river to symbolize Justice. In his 2023 Creation Day message, Pope Francis asks that we "join the mighty river by transforming our hearts." He goes on to say that this requires an ecological conversion and an integral approach to respect for the environment that involves relationship with God, with our sisters and brothers of today and into the future, with all of nature and with ourselves. He speaks of the synodal process in which our church is engaged as an invitation to all on this transformative journey to "coalesce in a majestic river of reflection and renewal" like the tributaries in nature which flow into and are absorbed into the mighty river.
On 4 October Pope Francis will release a follow-up document to his 2015 encyclical Laudato Si' in an effort to help "put an end to the senseless war against our common home".
October 4 also marks the opening of the first session of the Synod, the meeting of the universal Catholic Church, in Rome. Read more here.
Cada año, desde el 1 de Septiembre, Jornada Mundial de Oración por la Creación, hasta el 4 de Octubre, fiesta de San Francisco de Asís, los Cristianos de todo el mundo son llamados a unirse en oración y acción por nuestra casa común.
El tema del Tiempo de la Creación de este año es Que fluyan la justicia y la paz, basado en Amós 5:24, donde Amós utiliza la imagen de un río caudaloso para simbolizar la justicia. En su mensaje del Día de la Creación 2023, el Papa Francisco pide que "nos unamos al caudaloso río transformando nuestros corazones". Continúa diciendo
que esto requiere una conversión ecológica y un enfoque integral del respeto del medio ambiente que implique una relación con Dios, con nuestros hermanos y hermanas de hoy y del futuro, con toda la naturaleza y con nosotros mismos. Habla del proceso sinodal en el que está comprometida nuestra Iglesia como una invitación a todos en este viaje transformador a "confluir en un majestuoso río de reflexión y renovación" como los afluentes de la naturaleza que desembocan y son absorbidos por el caudaloso río.
El 4 de octubre, el papa Francisco publicará un documento de seguimiento de su encíclica de 2015 Laudato Si' en un esfuerzo por ayudar a "poner fin a la guerra sin sentido contra nuestra casa común".
El 4 de octubre también marca la apertura de la primera sesión del Sínodo, la reunión de la Iglesia católica universal, en Roma. Más información aquí.