On May 6, 2010 St. Teresa's Parish church provided the setting for a commemorative ceremony to mark the thirtieth anniversary of palliative care service in Newfoundland and Labrador. The celebration, opening with 'Nun bitten sir' by J. S. Bach, centered on remembrance, thanksgiving and blessing.  
In her words of welcome Sister Diane Smyth referred to 1979 and the founding of palliative care service when Sister Mary Fabian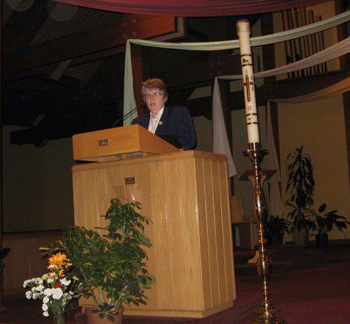 Hennebury, administrator of St. Clare's Mercy Hospital, 'was concerned that dying patients would receive the care, comfort and compassion that they needed.' Her response to this need was to open a ten-bed palliative care unit at St. Clare's. Sister Elizabeth Davis, congregational leader of the Sisters of Mercy, also spoke of Sister Mary Fabian "who held the vision of bringing a palliative care unit to Newfoundland, of St. Clare's Board and staff who had the wisdom to endorse that vision, and of Laurie Anne O'Brien and her team who had the courage to implement the vision against many obstacles." She continued to say that the Sisters of Mercy at St. Clare's were the holders of the vision in many ways over the past thirty years. Others who brought greetings included Louise Jones on behalf of Eastern Health, Dr. John Lewis, and Dodie Glynn, Director of the Palliative Care Unit at the Miller Centre.
The greetings were followed by a historical overview by Laurie Anne O'Brien who very skillfully, through a power point presentation and script, depicted patients in the unit living life to the fullest, surrounded by loved ones in an atmosphere of love, caring and comfort.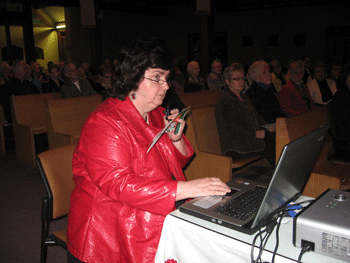 A moving ritual followed in which seven symbols were then brought to a table placed before the altar, each one celebrating an aspect of care: a candle – symbolizing warmth, light, life and remembrance; a memory book – representing the memories of those cared about and cared for; healing hands picture and statue – symbolizing the bonds of human touch and connection, bringing care and comfort; Scriptures – symbolizing the love and presence of a Higher Power;   tea cup denoting 
refreshment, renewal and companionship; the rosemary herb as a token of healing power, hope and remembrance; and a quilt, symbolizing the love, care, and comfort given and received by all who are touched by palliative care. 
The table, draped in a beautiful lace cloth holding these symbols, provided the setting for a song of praise and thanksgiving and rite of remembrance. This included the song 'Remember Me', and a reading from Isaiah 25:6-10 which was followed by a moment of remembrance in silent prayer.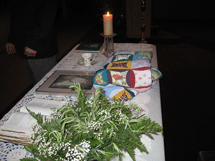 While the ceremony commemorated the historic event of the opening of the unit, it also included the growth and development of palliative care over the years as a model of care that moves outside of the acute care setting into the community, into homes of the sick, into long-term care facilities, to help bring individuals comfort and quality of life in their illness and in their dying.
Owen Brown, whose 26 year old son died in the Palliative Care Unit in 1995, then shared his own personal and family's experience during his son's illness and death. He noted that the experience taught him what living and dying is all about and that it brought home to him so clearly that dying is an integral part of the journey of life.
The ceremony concluded with the Song of Blessing 'The Lord Bless You and Keep You' followed by a postlude, 'Jesu, Joy of Man's Desiring', by J.S. Bach. 
The ceremony was attended by Sisters of Mercy, family members/loved ones, friends, health care workers, volunteers, physicians and others who have been touched by palliative care over the years.