In 1842 the first convent of the Sisters of Mercy in North America was established in St. John's, Newfoundland. Two of the three sisters who came from the Motherhouse in Dublin returned to Ireland leaving Sister Mary Francis Creedon to carry on the mission.  
Within the next few years women from Newfoundland and Ireland joined Sister Francis and were professed as Sisters of Mercy.Other convents were opened in St. John's and new foundations were established in Burin,  Brigus, Conception Harbour, in the easterly part of the island. The following is a brief account of the founding of a Mercy Convent on the west coast of Newfoundland.
Western Newfoundland was attached to the St. John's diocese until 1870, when it was constituted a Prefecture Apostolic and Father Thomas Sears was named Prefect Apostolic.  As early as 1873 in a report to the Society for the Propagation of the Faith, Father Sears expressed his dream of having a community of nuns to educate the young women of his parish, which then comprised most of the west coast. He wrote: Could we afford to establish a good seminary of Instruction for females as the first beginning we would gain much. A convent of five or six well-educated nuns would be of the greatest importance…  Father Sears' dream would come to fruition some twenty years later in a marvellous chain of events that could only be seen as the providence of God at work.  It was Father Sears' successor and friend, Reverend Michael Francis Howley, who would bring a community of nuns to Newfoundland's west coast.
Meanwhile, in another part of the world, events were unfolding that would give life to a long-held dream and change the lives of many in the process.  On a riverboat in Massachusetts, sometime in the mid 1880s, a wealthy and well-travelled American woman, Mrs. Henrietta Brownell, met Sister M. Juliana Purcell, a Sister of Mercy from  Xavier's Convent in Providence, Rhode Island. Sometime later, the chance finding of a medal of the Virgin Mary by Mrs. Brownell led her to St. Xavier's, a circumstance that forged relationships which would profoundly affect the lives of all concerned.  A lasting friendship developed between Mrs. Brownell and Sister Juliana, and indeed the whole St. Xavier's community welcomed Mrs. Brownell as friend and benefactor.
Henrietta Knowlton Brownell was born in Bristol, Rhode Island in 1837.  Her first husband, George A. Pierce, died sometime in the early 1860s. When the Sisters of Mercy met Henrietta, she was the wife of Charles De Wolf Brownell, a lawyer and a renowned landscape artist.  From her first marriage, she had two children, a boy and a girl, and the Brownells had four sons. The family travelled extensively, with Mr. Brownell devoting himself to painting his landscapes. Henrietta was a very talented lady, a writer and an accomplished musician with a proficiency in piano and violin. In gratitude to the sisters at St. Xavier's for their kindness to her, she offered to teach violin to any of them who desired to learn, and with the permission of the local superior, a number of the sisters took lessons. This brought Mrs. Brownell into frequent contact with the sisters, and over time she developed a close relationship with another community member of St. Xavier's, Sister Mary Antonio Egan.
After Mrs. Brownell converted to Catholicism in the late 1880s, she made the decision to use some of her wealth to finance the establishment of a convent in a missionary country. She discussed her plans with Sisters Juliana and Antonio, who shared her enthusiasm for such a worthy venture. When Sister Juliana died in 1888, Sister M. Antonio became her main confidante and advisor.
Early Life of the Founder
Sister Mary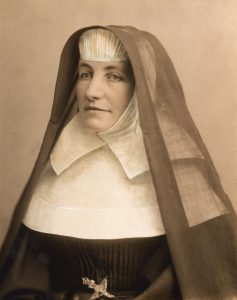 Antonio, born Elizabeth Egan in England on May 12, 1852, came with her father, brothers and sister to the United States at an early age to live with an aunt. She attended St. Xavier's Convent School, a private school begun by the Sisters of Mercy in Providence in 1856. She entered the community at St. Xavier's in May, 1868 and was professed on January 1, 1871. In The Leaves of the Annals of the Sisters of Mercy we read that she was one of the sisters who devotedly nursed a pioneer sister in Providence in her last illness.  This reference, brief though it is, indicates the spirit of mercy and compassion that characterized Sister Antonio throughout her life and ministry.
Sister Corsini Dempsey, another member of St. Xavier's community, had lived in St. John's as a child, and through continued contacts with her Newfoundland friends, became aware of the educational and spiritual needs of the people on the west coast of Newfoundland. Aware too of Mrs. Brownell's desire, she approached her in late 1892 and asked her to consider financing a convent of the Sisters of Mercy in the missionary territory of western Newfoundland. Having received a positive response from Mrs. Brownell as well as the permission of her religious superiors, Sister M. Corsini wrote Bishop Howley on November 17, 1892, setting forth her proposal for establishing a convent of the Sisters of Mercy in his area. Normally foundations of the Sisters of Mercy are initiated by requests from bishops to the leaders of the congregation. This situation was unusual in that the initiative came from individual sisters and a lay woman. Even so, the Newfoundland foundation from Providence did have the permission and approval of its religious superiors, both diocesan and congregational. When Bishop Howley received Sister M. Corsini's letter with its very welcome news of a possibility of a community of nuns for his mission, he immediately made plans to travel to the United States. He met with Mrs. Brownell on January 31, 1893 and the next day with Bishop Matthew Harkins of the Providence Diocese and with the four sisters who had volunteered for the mission – Sister Mary Antonio Egan, Sister Mary Corsini Dempsey, Sister Mary Veronica Payne and Sister Mary Sylvester Carver.  On February 4, Bishop Howley, Mrs. Brownell, Sister Antonio and Sister Corsini met at Boston College to sign the papers of Agreement regarding the new foundation at Sandy Point. Bishop Howley's Diary notes that at this time Mrs. Brownell turned over to him the amount of $11,858.44 in Bonds and Bank Deposits.  When his business was completed, the bishop returned to Newfoundland, and it was Sister Antonio who continued the work associated with founding a new mission. She was well able for the task.
On July 15, 1893 each of the four sisters signed a form, stating that she had, at her own request, been canonically dispensed from obedience to the Bishop of Providence and to the Superior of the Sisters of Mercy of Providence in order to form a new community, being established by Bishop Howley in Western Newfoundland. At the same time each sister renounced any right to return to the Diocese of Providence or to any religious congregation within that diocese.  This was essentially the last of the legalities to be negotiated, and, with that completed, all was ready for the new venture.
Hurra for Foundations!
On July 13, 1893 Bishop Howley left Newfoundland for Rhode Island to escort the pioneer band to Sandy Point. On the 18th of that month, he, along with the four sisters and Mrs. Brownell, boarded the Olivette for Halifax.  Since Sister Sylvester Carver was a Haligonian who had entered the Sisters of Mercy in Providence in 1880, we can perhaps assume that she visited family during their six-day stopover in Halifax. Sailing from there aboard the SS Harlow, the missionary group arrived at Sandy Point on Friday, July 28. The dream that Father Thomas Sears had articulated in his report of 1873 had finally taken shape, and the new mission of the Sisters of Mercy in Sandy Point was about to begin.
The EveningTelegram of August 12, 1893 records with great detail and colour the arrival of the first Sisters of Mercy to Newfoundland's west coast. At Sandy Point the missionaries received an enthusiastic welcome, replete with evergreen arches, wreaths, flags, processions and salvos of gunfire.  Magistrate M.E.Dwyer, Esq., J.P. gave an address of welcome on behalf of the lay people and Father P.W.Brown spoke on behalf of the clergy. The people themselves …… displayed the most unbounded enthusiasm and interest in the arrival of the nuns and flocked around them in their own simple ways as the harbingers of great future blessings to this place.  The paper further stated that the nuns would take charge of the public school immediately after the summer vacation, and that there were plans to open a branch for higher education in the near future.
(This article is an excerpt from a booklet written by Charlotte Fitzpatrick, Woman of Providence: The Life of Sister Mary Antonio Egan, rsm, Founder of the first Convent of Mercy on the West Coast of Newfoundland, printed in St. John's,NL in June 2011. Copies of the booklet may be obtained by contacting: mercygeneralate@sistersofmercynf.org