Today, women shaped and inspired by the vision of Catherine McAuley carry out Mercy ministry in Newfoundland and Labrador and in Peru in a variety of ways.
Sisters minister not only in urban areas but also in many rural communities of our province and in Peru; one sister lives in Ontario.
The Congregation has established a Centre for Ecology and Justice which promotes and raises awareness as well as calls to action in areas related to the ecological and justice issues that concern our twenty-first century world at home and abroad.
Together Sisters of Mercy of Newfoundland make a commitment to alleviate injustice and to continue to reach out in compassion and service to the poor and oppressed, especially to women. We seek to do this through our continued presence to the sick, elderly, poor, prisoners and the marginalized.  Our Congregation  also ministers through our sponsorship and contributions to numerous programs and projects, not only in our province and in Peru but also in the wider global community.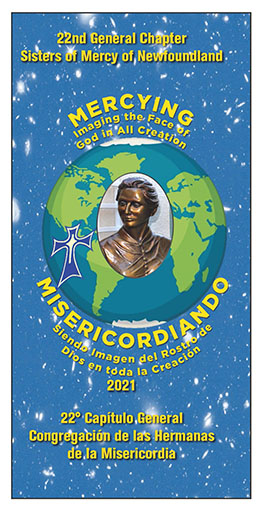 CHAPTER STATEMENT (2021)
Mercying: Imaging the Face of God in All creation ,the call of the 22nd General Chapter (2021), impels us to a contemplative and intentional response to the cry of Earth and the cry of the poor as one.
Trusting in God's providence and inspired by Catherine's vision, we dare to walk together into the future, exploring anew our place in an evolving universe.
We commit ourselves, through contemplative and compassionate presence, to:
• Listening and responding to the cry of Earth and the cry of the poor as one;
• Welcoming diversity and inclusion in creation, and in community and ministry;
• Discerning new paths for leadership and ministry.
LA DECLARACIÓN DEL CAPITULO (2021)
Misericordiando: Siendo Imagen del Rostro de Dios en Toda la Creación, el llamado del Capitulo General vigésimo segundo (2021), nos impulsa a dar una respuesta contemplativa y decisiva al clamor de la Tierra y al clamor de los pobres que es un solo clamor.
Catalina, nos atrevemos a caminar juntos(as) hacia el futuro, explorando de nuevo nuestro lugar en un universo en evolución.
Como una presencia contemplativa y compasiva, nos comprometemos a:
• Escuchar y responder al clamor de la Tierra y al clamor de los pobres como uno solo;
• Acoger la diversidad y la inclusión en la creación, y en la comunidad y el ministerio;
• Discernir nuevos caminos para el liderazgo y el ministerio.