On May 21, 1922, the Sisters of Mercy of Newfoundland opened a hospital in a small dwelling, the "White House" to care for 23 patients. From these small beginnings has grown a Tertiary, adult acute care hospital serving the people of Newfoundland and Labrador for over 100 years.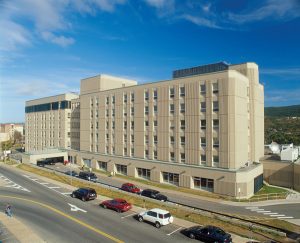 The history of St. Clare's Mercy Hospital lives on. Having celebrated its 100th anniversary in 2022, its standard of excellence is recognized by all. It was sold to government in 1995 yet the influence of the Sisters of Mercy is obvious with its Advisory Council continuing to play a key role. The presence of the Sisters in Pastoral Care and it Mercy symbols in strategic locations continue to give the hospital its unique atmosphere. Indeed, "God's mercy is from generation to generation' (Luke 1:50)
During the 100th anniversary celebrations greetings were expressed by Dr. Andrew Furey – Premier of Newfoundland, Doctor John Haggie- Minister of Health, Archbishop Peter Hundt – Archbishop of St. John's, Mr. David Diamond – CEO of Eastern Health and Sister Diane Smyth – Congregational Leader of the Sisters of Mercy. All echoed the great contribution of St. Clare's Mercy Hospital to the field of health care and the influence of the Sisters of Mercy.
A highlight of the ceremony was the presentation of symbols brought forward by key members of the St. Clare's community. The Symbols included:
A photo of St. Clare's showing the growth of the hospital over the years
A Values Poster highlighting the heart of their mission and ministry
 Oil of Anointing as a symbol of healing and comfort
Crest of St. Clare's with its motto "Mercy Above All", representing healing and hope centered in Mercy
Nightingale Lamp representing Florence Nightingale, the mother of the nursing profession
Clare's Community – a collage representing the different departments and services which provide ministry at St. Clare's
Photo of a ceramic Sculpture by Newfoundland artist Gerry Squires which depicts the history of St. Clare's. This sculpture adorns the lobby of the hospital.
View the ritual of celebration and thanksgiving held 22 May, 2022.
Explore the timeline of key events in the history of St Clare's