The spirituality of Catherine McAuley: in her faithfulness to God's will, in her deep trust in God's providence, in her commitment to prayer and good works, especially in the care of the poor, sick and uneducated, is inspirational for thousands of Mercy Sisters. Catherine's story also inspires many Associates, family and friends of the sisters, as well as their colleagues, co-workers and companions in ministry.

Mission Statement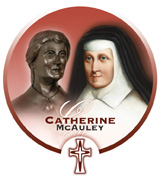 We, the Sisters of Mercy, in response to our baptismal call and in the spirit of Catherine McAuley, participate in the mission of Jesus through prayer, community living and service.
We collaborate with other members of the Church to extend God's reign of love, justice and peace. We do this through our ministry with the poor, sick, aged, uneducated and oppressed. By striving to make God's mercy visible, we become signs of hope in the church and in the world.
We are called to a mission of mercy and justice in today's world. We seek to live a spirituality flowing from a sense of sacredness of creation as expressed in reverence for ourselves, for on another and for all the earth.