What Being an Associate Means to Me
Anna (O'Keefe) Kelly (presented at service of commitment of Associates)
I've been a Mercy Associate for twelve years. When my sister, Maureen, a Sister of Mercy, invited me to come and see what the Associate Relationship was all about, little did I realize what an important part of my life it was going to become.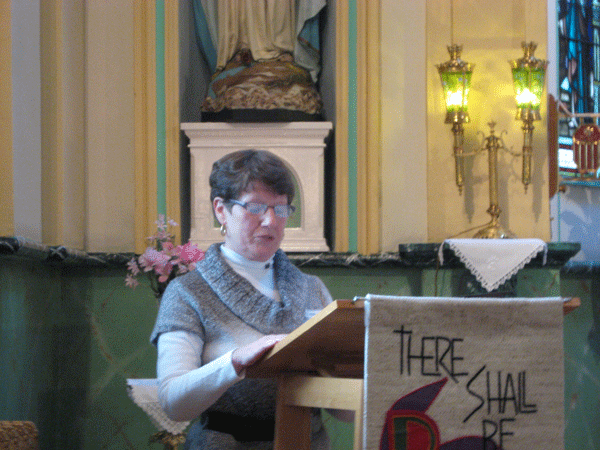 I've gotten to know the Venerable Catherine McAuley through the inspirational talks given by the sisters, the videos I watched about her life and legacy, the visit I made to Mercy International Centre at Baggot Street in Dublin, and of course through knowing the Sisters of Mercy.   Seeing first-hand how they respond to Catherine's charism of compassion and Mercy in their ministries, lets me see that this remarkable woman was a woman of deep faith, a woman of great compassion, determination and perseverance – one who trusted in her God explicitly as she responded with mercy to the suffering poor of her time.
Now, as a Mercy Associate, I have become more aware of what is happening in the world around me and just how I can help make a difference. I think of Catherine's words that It is in doing the ordinary things extraordinarily well that counts. So as I go about doing my works of mercy, whether it is helping at our parish food bank, volunteering at St. Patrick's Mercy Home, reaching out to the sick in my own neighborhood, serving that "comfortable cup of tea" at the Sisters' wakes at McAuley Convent or giving love and support to my family: my husband, my children and my grandchildren – whatever I am doing or whomever I meet during my day, I try to keep the spirit of Mercy at the heart of it all.
The three main focus areas of our Associate Relationship are Prayer, Community and Ministry.
My Associate Group, "Kitty's Companions" meets once a month with our Facilitator, Sister Dorothy Willcott. I look forward to his time together with our group as it gives me the chance to quiet down and shed my daily anxieties. It is a time for prayer, sharing, showing support and concern for each other, having time to develop new friendships and of course enjoying a story and a few laughs as we share that "comfortable cup of tea" at the end of our meeting.
We bring to our group our own gifts and talents that enable us to companion with the Sisters of Mercy to help them carry on Catherine McAuley's charism, to bring the Mercy of God to those in need, and at the same time we deepen our own Baptismal commitment to live more fully the values of the gospel.
Since becoming an Associate, I have to say that not only have I grown spiritually but my whole person has been enriched. I have had wonderful opportunities for spiritual growth through attending days of retreat, study sessions on prayer, scripture and spirituality – all given by the sisters. I have attended three Associate Conferences – one at Mount St. Vincent in Halifax with guest speaker, Macrina Wiederkhr,OSB, who spoke to us on the theme "Soul Listening." Another conference was given at Littledale with guest speaker, Sister Nancy Whitley,RSM whose subject was "The Venerable Catherine McAuley – A Woman of Love." And our most recent conference was held at the Lantern in October, 2010. This conference had two Associates as guest speakers: Peggy Madigan a CND Associate from Nova Scotia and Ann Gotfryd, CND from Toronto. The theme of this conference was "With Burning Hearts: Together for Mission" and was attended by Newfoundland Associates of Presentation, Mercy and Redemptorist Congregations as well as the Religious who journey with them. All of these conferences provided moments where we could meet and get to know other Associates and share our ideas on how we could help carry on Catherine McAuley's mission of reaching out to the poor in our society with compassion and mercy. Sometimes all that is needed is our presence.
I have also served on our Mercy Associate Committee, something I would recommend to all Associates. It is certainly an enriching experience and it is an opportunity to give back to the sisters who do so much for us.   And, as an Associate, I have attended sessions at the Sisters of Mercy Chapter. All of these wonderful experiences have helped me deepen my commitment to the Mercy Associates and to follow in Catherine's footsteps by helping to bring the Mercy of God to the poor, sick, lonely and our shut-ins.
That is not to say that at times being an Associate can't be a challenge because of the busyness of the world in which we live! But, when this happens, I try to remember Catherine's words:
"We have one solid comfort.
Amidst all this little tripping about
our hearts can always be in the same place
Centered in God,
for whom alone we go forward, or stay back.
Oh, May God look on us with love and pity
and then we shall be able to do anything
He wishes us to do."