Article contributed by Associates Regina Shapter and Bess Collins
It was with great joy that a large number of Sisters of Mercy and Mercy Associates gathered in the beautiful Chapel at Mercy Convent on Military Road in St. John's on February 13, the Eve of St. Valentine's Day. All had gathered to celebrate the Mercy Associate Commitment of Mickie Pitcher, Marilyn Stack and Geraldine (Gerri) Stapleton.
Sister Maureen O'Keefe, Coordinator of The Associate Relationship warmly welcomed Congregational Leader, Sister Elizabeth Davis, as well as members of the Leadership Team: Sisters Elizabeth Marrie, Gladys Bozec and Sheila O'Dea. Sister Maureen extended a special welcome to family members and friends of the Pre-Associates. With great pleasure she welcomed the many Mercy Sisters and Associates in attendance. As well she happily acknowledged the members of the new Pre-Associate Group who were in attendance.
In her opening remarks Sister Maureen related that "our Associate Relationship continues to grow in numbers and in depth of commitment." She continued that as we work together as Sisters and Associates "our lives are mutually enriched and our Mercy Ministries significantly enhanced as we work side by side to respond to the Gospel challenges of our province and our world."
Following her opening remarks Sister Maureen invited Sisters Margie Taylor and Madeline Byrne, who accompanied Mickie Pitcher, Marilyn Stack, and Gerri Stapleton through the Pre-Associate Program to lead those present in the Ritual of Agreement.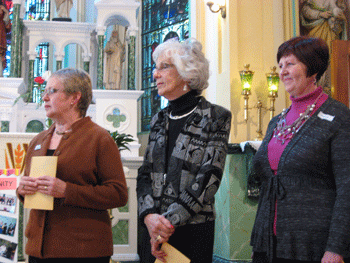 Ritual of Commitment:
Song (Reflection): In the Name of Love
First Reading: Jeremiah .29 : 12-15….. read by Sister Elizabeth Marrie
Response: Mercy Seed (Elizabeth Drouin)
Second Reading Luke 8: 4-8 read by Harold Stapleton
Response: Mercy Seed
Third Reading: Passage from Tender Courage by Joanna Regan and Isabelle Keiss read by Sister Madeline Byrne
Response: Mercy Seed
Reflection on Readings: "What Being A Mercy Associate Means to Me"
This presentation was given by Anna (O'Keefe) Kelly. In it Anna gave an account of her personal and spiritual journey as a Mercy Associate.)
The Ritual of Commitment began after Anna Kelly's inspirational presentation.
a) The new Associates were invited to come forward and Sister Elizabeth Davis invited each one in turn to make her Mercy Associate Commitment.
Pinning Ceremony:
Sister Elizabeth blessed the pins which symbolize our Mercy Charism and  presented them to the three new Associates. As well, each new Associate was given a Mercy Associate Candle.
Sister Elizabeth extended words of congratulations and spoke of the Associates and those who are journeying with the Sisters in reaching out and spreading Catherine's charism. As well she expressed words of gratitude to Sr. Maureen for the wonderful experience that all present shared in participating in the Ritual of Agreement. She spoke with sincere admiration and appreciation for the presentation given by Anna Kelly.
Following the Closing Prayer and the Singing of the "Circle of Mercy everyone  proceeded to The Fleming Room to enjoy a most "comfortable cup of tea."
Words of appreciation are expressed to Sisters Margie Taylor and Madeline Byrne for organizing the Ritual Agreement Ceremony. As well, gratitude is extended to Sisters Diane Smyth for taking photos and Sister Maureen Lawlor who provided musical accompaniment.
An appropriate way to end this report is to recall Anna Kelly's concluding remarks "being an Associate may prove to be a challenge because of the busyness of the world in which we live." Her advice in overcoming this challenge is to remember Catherine's words:
"We have one solid comfort.
midst all this little tripping about
our hearts can always be in the same place
Centered in God,
For whom alone we go forward or stay back.
Oh, May God look on us with love and pity
and then we shall be able to do anything
He wishes us to do."