From our earliest days in Newfoundland a number of Sisters of Mercy visited inmates of the various prisons in the town of St. John's and at the Salmonier prison farm and in more recent years at the West Coast Correctional Centre in Stephenville.
Sister Margie Taylor relates a few of her recent experiences with some whom she has accompanied.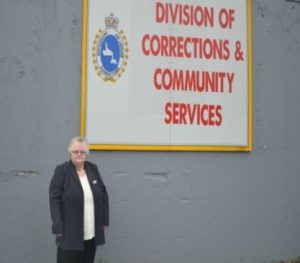 "Sister Margie, a woman's got to do what a woman's got to do to survive."   With these words, a woman described how she was involved in the sex trade industry in order to meet her basic needs.  In 2001, I first became involved in a ministry as a prison chaplain for women.  The crimes the women were charged with at that time involved shoplifting, theft, possession of drugs or driving without a license.  But today the face of crime has changed and the challenges are monumental.
Many of the people with whom I journey are marginalized by the stigma of mental illness.  This may manifest itself as depression, bipolar disorder, schizophrenia, anxiety, or personality disorders.  The stigma coupled with SHAME is cited as the number one reason why individuals do not seek help.  In late April, 2023, I journeyed with a woman whom I referred to as "the woman in the tent."  Amidst freezing cold temperatures, she chose to sleep in a small pup tent by our Basilica because she felt safe there.  I kept showing up until I won her trust, learned her name and was able to see her move to better accommodations where she felt safe once more.
One author in writing of our capital city refers to it as Rock, Paper, Sex.  Rock as the name of our city, paper as money utilized in the sex trade industry and sex for the demand itself.  Yes, today a woman's got to do what a woman's got to do to survive. The key is in asking ourselves: "How can we mind our mental health and address this issue so people can stand TALL because TALL is a TALL  order?"  Margie Taylor  rsm
For further information on our Prison Ministry, click here