For nine days we have met as a community holding accountability for our life in Mercy for the past four years and imagining the unfolding of our life in Mercy over the next four years. Contemplation has been the thread weaving the texture and the colour through our days together. Our profoundly centering logo has drawn us time and again into deeper contemplation as we endeavoured to explore the depths of our motto "Mercying into the future. .  . Misericordiando hacia el futuro. . ."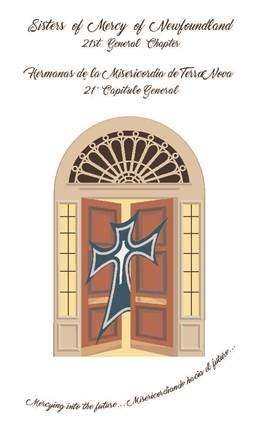 Two images, one from the logo and one from the motto, now invite us into the living out of our Chapter Statement.  In the logo, the simple panes of the side panels (not the ornate decoration of the earlier drafts) remind us of a time in Catherine's life when she was uncertain, seemingly out of her depth and without the security of her faith tradition.  We are told that, denied the right to have access to any Catholic symbols or rituals, in her ingenuity she found the Cross in the window panes and door panels and the intersecting branches of trees on the lawn. I see six such crosses in the side panels of our logo – how many do you see?  In a postmodern world, in what familiar yet unexpected places will we find the Creating One, the Risen One and the Spirit of peace and justice?
The time has also come to look at the three dots embedded in our motto.  These three dots, a punctuation mark known in English as an ellipsis, are at the end of the quotation in English and in Spanish and are the link between the two phrases.  There is an invitation to graceful movement inherent in this punctuation mark – it suggests the unfinished thought, the slight pause, the intentional silence, the echoing voice.  In these coming four years, let us attend to those unfinished thoughts, let us respect the slight pauses, let us become calm in the intentional silences, and let us delight in the echoing voices.
During our Chapter days, we heard the echoing voices of four profound phrases: Who we love transforms us ~ Where we live reshapes us ~ How we create remakes us ~ What we choose changes us.
-Reflections given by Elizabeth Davis, rsm on the closing of the 21st General Chapter of the Sisters of Mercy of Newfoundland.
| | |
| --- | --- |
| | |
| Cait Wims rsm, translator | Chapter centerpiece |