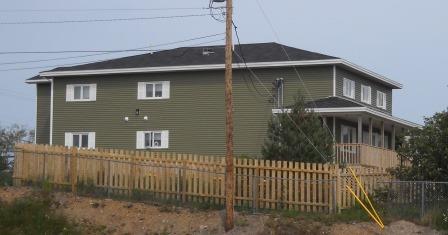 On 22 December 2014 I was invited to attend a small Christmas celebration at McAuley Place – that is the former Holy Name of Mary Convent, which closed in 2011, and purchased by the Grace Sparkes Home for Battered Women. After much hard work and persuasion to both levels of government, two grants were made available to renovate the building.
The former convent now has six small but beautiful apartments to accommodate one, two or three- member families who need protection and accommodation. The committee, lead by Mrs. Lisa Slaney and supported by Grace Sparkes staff, have done a wonderful job to make this possible for women in need of shelter and support.
As I told them, the first Mercy House was opened in Ireland by Catherine McAuley to assist young women. It was a blessing then as it is today. McAuley Place is a local ministry much after the vision of our foundress.
The women, and one child presently living in 'McAuley Place,' enjoyed this Christmas celebration. There was music, lunch, and even Santa Claus. I am sure there will be many such events as well as the care, shelter and guidance they will receive.
An official opening is planned in the future.
P.S. As a matter of information — Sister Rona O'Gorman served on the committee which took the responsibility to lobby for a 'Grace Sparkes' house to be established in Marystown. That shelter opened in 2000.
Messages to Theresa: theresamarch34@yahoo.ca