August 25, 2023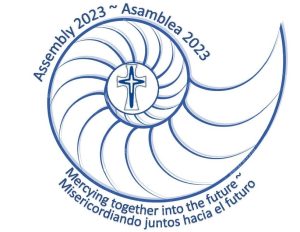 The Sisters of Mercy of Newfoundland have just completed an Assembly, August 21- 23.  The theme of the Assembly was "Mercying Together into the Future." 
Most of the sessions were held by Zoom to accommodate sisters living in Peru and Ontario.    On August 21 we invited the whole Congregation (67 of us- more than half already living there – to the Residence at Littledale, 3rd floor) for prayer and socialization.  That was the opening of our Assembly. This was the first time we have met together since our last Assembly in 2019.
The next day we gathered via Zoom, with Sr. Catalina Wims, rsm in Ireland to translate Spanish and M. Guy Richard, an employee of the Sisters of Providence in Montreal, Quebec as our Zoom technician.   Our meetings were facilitated by Ms.  Anne Walsh, a Newfoundland "mercy person" who works mainly with the Redemptorists and the Archdiocese of St. John's.   Our Assembly takes place midway between our Chapters and provides opportunity for the whole Congregation to pray, reflect and converse about the life and mission of the Congregation in its response to our Chapter directions.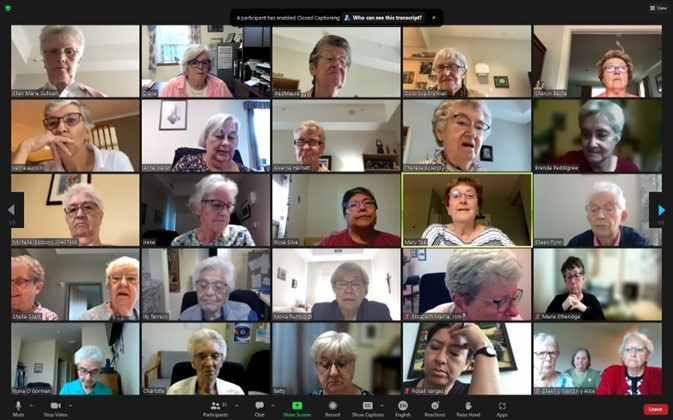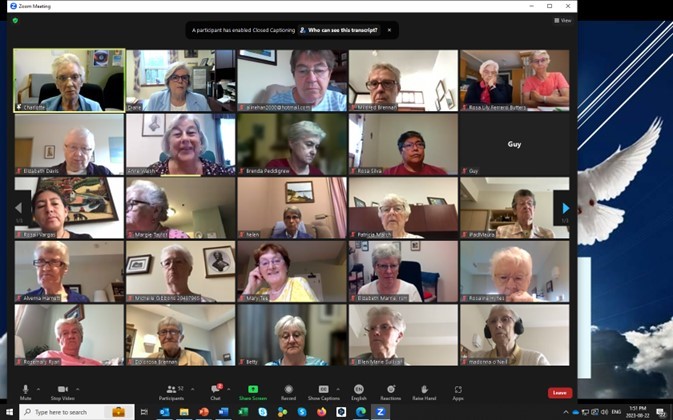 Special guests, Margaret Endicott, rsm,  Linda Haydock, snjm, were part of two sessions related to ministry and governance.  Our own, Elizabeth Davis facilitated a session regarding a new legal entity that will eventually govern and manage our various ministries.  In the afternoon of the first day we spent contemplative time viewing a presentation in remembrance of all of our Sisters and Associates who had died.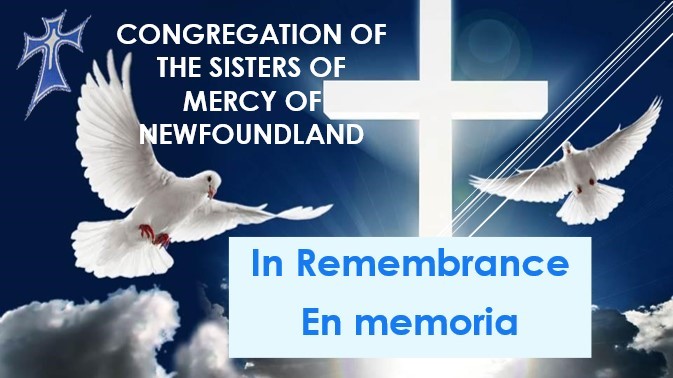 On August 22 over 60 of us, took part in a beautiful turkey dinner in the main dining room at The Residence at Littledale, where many of our sisters live.  We enjoyed a celebratory cake served as dessert.  This gave us another opportunity to be together in the one room!  We had five sisters among us celebrating their jubilees: Sisters Theresa March and Joan Gosse celebrated 70 years and Sisters Helen Harding, Sylvia Doyle and Rona O'Gorman celebrated 60 years – a grand total of 320 years!
The days were rich and full and we enjoyed a wonderful spirit of interest, engagement, celebration and gratitude.  We look forward to ongoing efforts to carry the mandate of our 2021 Chapter forward and prepare for our next Chapter in 2025!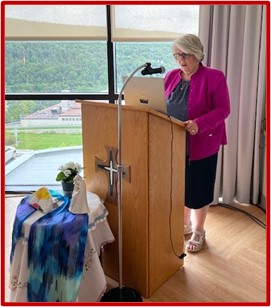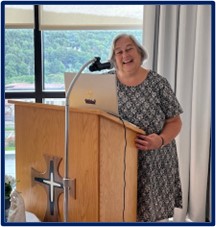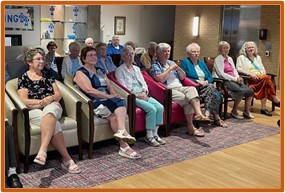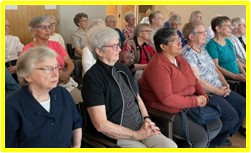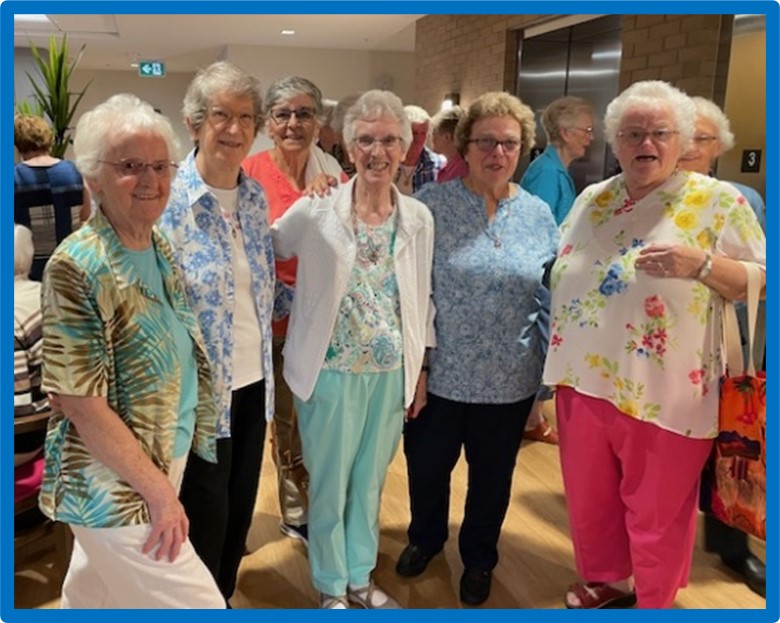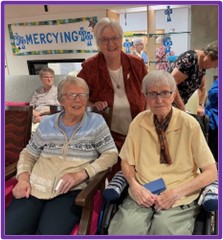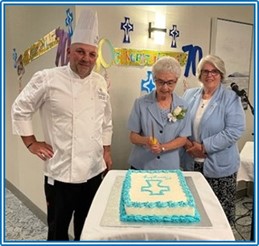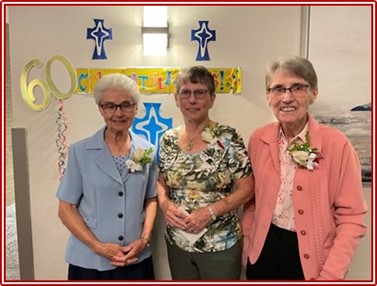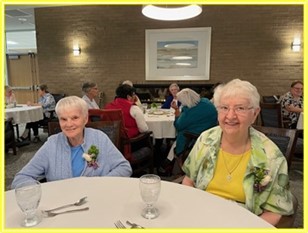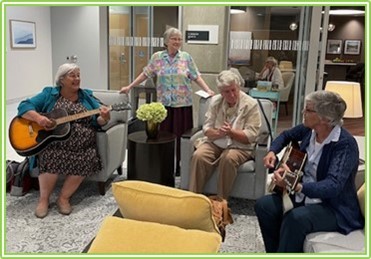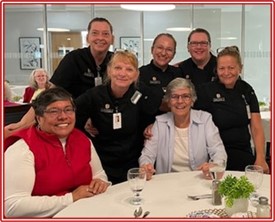 Las Hermanas de la Misericordia de Terranova acaban de terminar una Asamblea, del 21 al 23 de agosto. El tema de la Asamblea fue "Mercying Together into the Future".
La mayoría de las sesiones se realizaron por Zoom para acomodar a las hermanas que viven en Perú y Ontario. El 21 de agosto invitamos a toda la Congregación (67 de nosotras – más de la mitad ya viviendo allí – a la Residencia en Littledale, 3er piso) para la oración y la socialización. Esa fue la apertura de nuestra Asamblea. Era la primera vez que nos reuníamos desde nuestra última Asamblea en 2019.
Al día siguiente nos reunimos a través de Zoom, con la Hna. Catalina Wims, rsm en Irlanda para traducir al español y M. Guy Richard, un empleado de las Hermanas de la Providencia en Montreal, Quebec como nuestro técnico de Zoom. Nuestras reuniones fueron facilitadas por la Sra. Anne Walsh, una "persona de la misericordia" de Terranova que trabaja principalmente con los Redentoristas y la Archidiócesis de St. Nuestra Asamblea tiene lugar a medio camino entre nuestros Capítulos y ofrece a toda la Congregación la oportunidad de orar, reflexionar y conversar sobre la vida y la misión de la Congregación en su respuesta a las orientaciones de nuestro Capítulo.
Invitados especiales, Margaret Endicott, rsm, Linda Haydock, snjm, formaron parte de dos sesiones relacionadas con el ministerio y el gobierno. Nuestra Elizabeth Davis dirigió una sesión sobre la nueva entidad jurídica que regirá y gestionará nuestros distintos ministerios. Por la tarde del primer día pasamos un tiempo contemplativo viendo una presentación en recuerdo de todas nuestras Hermanas y Asociados fallecidos.
El 22 de agosto, más de 60 de nosotras, participamos en una hermosa cena de pavo en el comedor principal de The Residence at Littledale, donde viven muchas de nuestras hermanas. Disfrutamos de un pastel de celebración servido como postre. Esto nos dio otra oportunidad de estar juntas en la misma habitación. Cinco hermanas celebraron su jubileo: Las Hermanas Theresa March y Joan Gosse celebraron 70 años y las Hermanas Helen Harding, Sylvia Doyle y Rona O'Gorman celebraron 60 años – ¡un gran total de 320 años!
Los días fueron ricos y llenos y disfrutamos de un maravilloso espíritu de interés, compromiso, celebración y gratitud. Esperamos seguir esforzándonos para llevar adelante el mandato de nuestro Capítulo 2021 y prepararnos para nuestro próximo Capítulo en 2025.