June 10, 2022
Legacy was enshrined by the care and compassion of the pioneering order 'walking nuns' who became the heart of N.L. health care for decades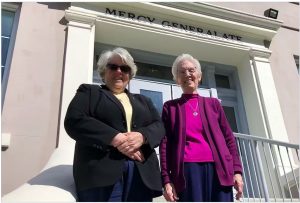 ST. JOHN'S, N.L. — Sister Diane Smyth remembers the family dinner her mother cooked the night before Smyth joined the Mercy Convent in St. John's in 1964.
"My uncle said to me, 'It's just like you're dying,'" she said.
"He said, 'No daughter of mine is going to join the convent,' as if to say, now that they're taking you away, you're going to be locked up for the rest of your life. That was the image of the cloister."
In fact, the Sisters of Mercy was never an order to shy away from engagement with the community. Quite the opposite.
"In Ireland, we were called the walking nuns," says Sister Charlotte Fitzpatrick — who recently wrote a book about the local order called "Standing on Their Shoulders" — "because most of the congregations of women in religions at the time were enclosed, they didn't go out among the people as much…
Read the rest of the article here