Every year on June 20 the world celebrates World Refugee Day, a day to remember and honor people who have been forced to flee home and country because of conflict or persecution.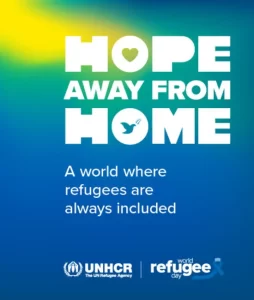 This day was designated by the United Nations in 2001 as a way to help shine a light on the rights, needs and dreams of refugees, to commemorate their strength, resilience and courage and to mobilize global will and resources to help them.
This week the UN Refugee Agency UNHCR released the latest official statistics on refugees, asylum-seekers, internally displaced and stateless people in their Global Trends Report 2022 . It shows a rise of 21% in the number of people forcibly displaced to 108.4 million and a rise of 35% in the of refugees worldwide, now 34.6 million.
On Thursday  we learnt of at least 78 people who drowned in the deadliest refugee shipwreck off  Greece this year after their overloaded boat of a reported 700 migrants capsized and sank in open seas. Once again, we were reminded of the inherent risks people take in their desperate search for safety, freedom and new beginnings.
This year's theme for World Refugee Day Hope Away from Home – a World Where Refugees are Always Included expresses the hope of the UN to build empathy and understanding for the plight of refugees and to find ways to build a better future for them in safe, welcoming and inclusive communities.
El 20 de junio de cada año se celebra en todo el mundo el Día Mundial del Refugiado, una jornada para recordar y honrar a las personas que se han visto obligadas a huir de su hogar y de su país a causa de conflictos o persecuciones.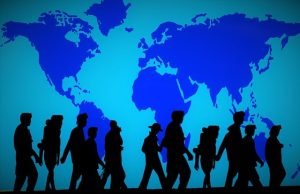 Este día fue designado por las Naciones Unidas en 2001 como una forma de ayudar a arrojar luz sobre los derechos, necesidades y sueños de los refugiados, conmemorar su fuerza, resistencia y valentía y movilizar la voluntad y los recursos mundiales para ayudarles.
Esta semana, la Agencia de la ONU para los Refugiados (ACNUR) ha publicado las últimas estadísticas oficiales sobre refugiados, solicitantes de asilo, desplazados internos y apátridas en su Informe sobre Tendencias Mundiales 2022. El informe muestra un aumento del 21% en el número de personas desplazadas por la fuerza, hasta 108,4 millones, y un incremento del 35% en el número de refugiados en todo el mundo, que ahora asciende a 34,6 millones.
El jueves supimos que al menos 78 personas se habían ahogado en el naufragio de refugiados más mortífero del año frente a las costas griegas, tras volcar y hundirse en mar abierto la embarcación sobrecargada en la que viajaban 700 migrantes. Una vez más, se nos recordaron los riesgos inherentes que corren las personas en su búsqueda desesperada de seguridad, libertad y nuevos comienzos.
El lema de este año para el Día Mundial de los Refugiados Esperanza lejos de casa: un mundo en el que los refugiados siempre estén incluidos expresa la esperanza de la ONU de fomentar la empatía y la comprensión hacia la difícil situación de los refugiados y de encontrar formas de construir un futuro mejor para ellos en comunidades seguras, acogedoras e inclusivas.