The Gathering Place is a service centre committed to building community, promoting equality and providing nourishment for those seeking respite from isolation and loneliness.
The Gathering Place was founded in 1994 as a joint project of the Sisters of Mercy and of the Sisters of Presentation. The Gathering place is a non-profit organization supported by two Roman Catholic parishes and three Anglican parishes in the center region of the city of St. John's, Newfoundland and Labrador.
The Gathering Place is open for guests Monday to Friday and is operated mostly through financial and in kind donations and by the generosity of a large number of volunteers including a number of Mercy and Presentation Sisters.
The Gathering Place provides meals for 80 – 125 men and women per day. The hospitality and ample space provides a caring and nurturing environment. There is an atmosphere of care, respect, compassion and support that encourages social development and self-esteem and a response to individual needs as they arise. Social services such as advocacy, literacy education, assistance with activities of daily living are made available as resources permit.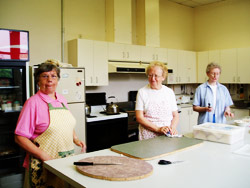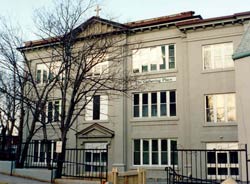 To donate or to become a volunteer:
The Gathering Place Inc.
172 Military Road
P.O. Box 1761
St. John's, NL A1C 5P5
Telephone: 709-753-3234
e-mail: gatheringplace@nf.aibn.com