July 20, 2017
Sister Mary Fabian Hennebury (1916 -2009) was the Public Face of St. Clare's Mercy hospital for nearly three decades.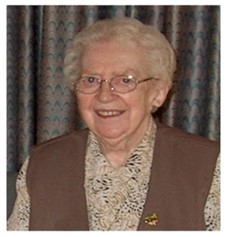 It is fitting that having celebrated the one hundredth anniversary of the founding of St. Clare's that we profile a woman who was the public face of St. Clare's for twenty-six years.
Mary Hennebury, known to us as Sister Mary Fabian, was born in Bonavista in 1916, the eldest of eight children. Her mother died when she was nine and Mary learned to accept responsibility at an early age. During the two years she spent at St. Bride's College after leaving Bonavista, she was inspired by the sisters' lives and their dedication to helping others, and it was here that she began to think about religious life as an option for herself. In 1935 at the age of nineteen, Mary entered the Sisters of Mercy.
A year after her profession, in 1939, she began nursing studies at the newly opened St. Clare's School of Nursing. She went on to do post­graduate work at the Hospital for Sick Children in Toronto, and upon her return to St. John's was appointed supervisor of pediatrics at St. Clare's. Her excellent academic qualifications and her Toronto experience had prepared her well for this ministry, which remained dear to her heart all through her life.
Meanwhile, Sister Mary Fabian was asked by the Congregation to enroll in a two-year correspondence course in hospital organization and management, given by the Canadian Hospital Association. She enrolled in a similar program with the American Hospital Association and received certification in both programs. Well-equipped academically and professionally, she was more than ready to assume the role of administrator of St. Clare's in 1955. This marked the beginning of a period of unprecedented growth for the hospital, not only in the size of the physical plant, in the services offered, in its outreach programs, but also in the qualifications, expertise and reputation of the people who staffed the hospital.
Sisters and lay staff were given opportunities to pursue studies at home and in other parts of Canada in order to get the required competencies for the hospital's expanded services. Sister Fabian herself was a lifelong learner, always keeping abreast of new approaches and developments in the delivery of health care.
Sister Mary Fabian oversaw two extensions to the hospital and initiated many new programs and services. Among these were hospital accreditation, pastoral care, social work, respiratory services, physiotherapy, and a rheumatology unit. As one department was established, new needs presented themselves and Sister Mary Fabian was quick to recognize and respond to these changing needs.
Almost immediately after assuming her position, Sister Mary Fabian began working on setting up a Board of Directors and a Medical Advisory Committee, both of which she saw as absolutely necessary for the growth of St. Clare's into a first-class hospital. From the beginning the new Board worked tirelessly with  Mary Sister Fabian to continue the tradition of Mercy and to ensure quality care for the patients. The incorporation of the hospital in 1960 not only gave St. Clare's legal status, but the means to ensure that its mission and values were sustained. Sister Mary Fabian also made and maintained connections with many organizations and groups in the city with a view to enhancing the reach of the hospital into the broader community. One such negotiation resulted in St. Clare's being recognized as a teaching hospital with a formal affiliation with the Medical School of Memorial University.
Sister Mary Fabian's role as administrator of an inner- city hospital made her keenly aware of the helplessness of many people suffering from addiction to alcohol. In the mid-1970s the Department of Health approached St. Clare's with a proposition that could respond to this pressing need, which was being recognized as a priority in the city. Government was prepared to finance a detoxification center, if St. Clare's would find a site for it and administer it. Sister Mary Fabian, her Board and the Congregation, wholeheartedly accepted the challenge. The Sisters purchased a property on Deanery Avenue in St. John's and turned it over to St. Clare's. Talbot House, under the guiding hand of Sister Mary Fabian, provided treatment, self-help programs and a safe haven for people fighting the disease of alcoholism.
Another huge venture initiated by Sister Mary Fabian was the establishment of a Palliative Care Unit at St. Clare's. The groundwork for the project involved several years of intense negotiation and planning, a process in which Sister Mary Fabian played a major role. On October 1, 1979, largely as a result of her vision and with the financial assistance of the Sisters of Mercy, St. Clare's opened the first Palliative Care Unit east of Montreal. In the ensuing years, this unit gave comfort, hope and dignity to hundreds of patients and their families in their darkest hours. The first Sister of Mercy to die in Palliative care was Sister Mary Mark Hennebury, Sister Mary Fabian's sister.
Although Sister Mary Fabian received national and international recognition for her progressive stance and her contributions to health care at home and abroad, she always insisted that she did not do it alone.  Invariably, she credited her Board of Directors, her congregation and the staff with whom she worked as her invaluable support system, enabling her to carry out her part of the overall mission of St. Clare's. Undoubtedly however, she played a major role in ensuring the position of St. Clare's as a general hospital with the highest accreditation, while at the same time ensuring that it held firmly to the mission and values of our founding charism. In her ministry of 38 years at St. Clare's, Sister Mary Fabian embodied the spirit of Mercy and by her visionary, wise and energetic leadership, established at St. Clare's a standard of excellence in the delivery of compassionate care that was a model for her successors.
On her retirement from the health care system, Sister Mary Fabian ministered at McAuley Convent, sitting with the elderly sisters, watching and praying with the dying, answering the door, welcoming visitors and doing the many small routine tasks that needed to be done. Throughout her whole life, she lived the motto of St. Clare's "Mercy Above All".  She entered into eternal life on March 31, 2009.
        (Article written by Sister Charlotte Fitzpatrick, RSM)