July 8, 2023
On July 15 we remember with gratitude our Newfoundland Mercy foundress, Sister Mary Francis Creedon, who died on this day in 1855 at the age of 44 years.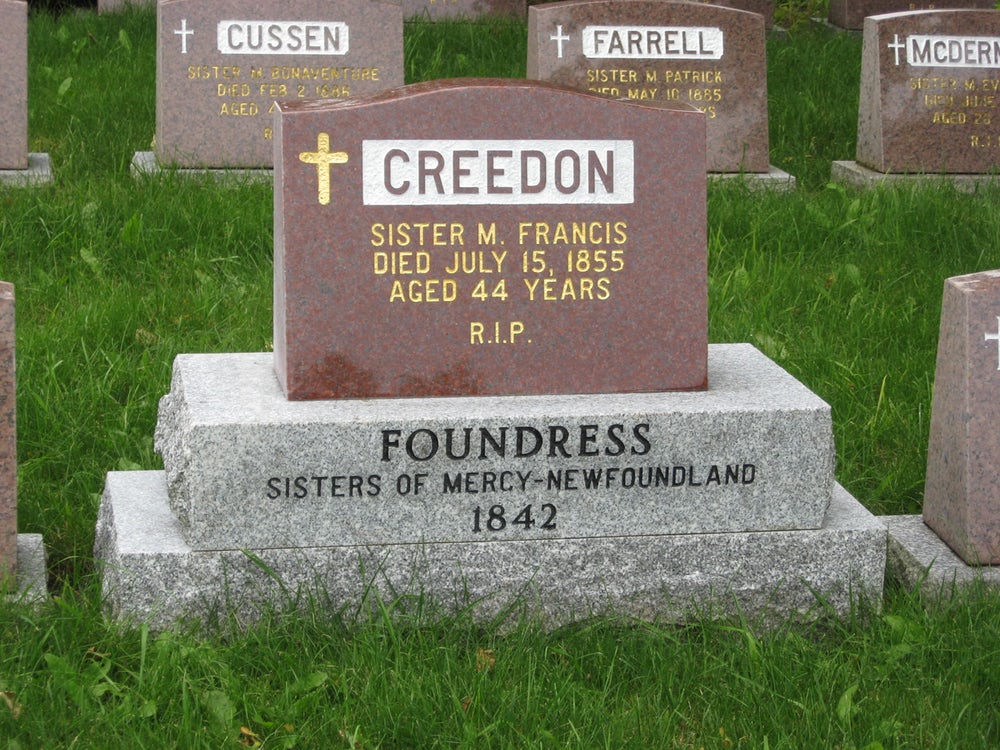 Francis was, in the words of Sister Kathrine Bellamy "The Steadfast Woman," a woman who trusted, loved and lived in the midst of seemingly insurmountable difficulties, setbacks, conflict, loss and suffering, as well as in the joys of loving companionship, shared hopes and dedicated service.
Francis was a newly professed sister living at Baggot Street when Catherine McAuley died in November of 1841. She was among the sisters named in the codicil of Catherine's will, charged with the preservation of the charism of Mercy. This awesome trust Francis took to heart, as was evident in her whole-hearted embrace of the mission of Mercy to the people of St.  John's. In the late 1840s and early 1850s she and her sisters became familiar figures in the lanes and alleyways of St. John's, bringing food, comfort and hope to people, many of whom lived in deplorable poverty and wretchedness.
By the Spring of 1855 the struggles and hardships of the early days of the mission, school responsibilities, regular visitation of the sick even in times of epidemics, instruction of young women who were entering the Order, opening an orphanage and an infirmary to care for sick orphans at Mercy Convent all began to take a toll on Francis' health. However, on July 2, less than two weeks before her death, she presided at a ceremony for the reception of Anastasia Tarrahan, the first Newfoundland-born woman to enter the community.
When Francis died on July 15, only four young sisters, one of them a novice, were left to carry on the mission. Undoubtedly inspired by her spirit and example, they created a legacy of compassion, commitment and courage that has characterized our congregation to this day. For this, we are grateful to Francis Creedon and to all our foremothers in Mercy. Having received Mercy, Francis did indeed become Mercy. This is our call, our challenge, our gift…
El 15 de julio recordamos con gratitud a nuestra fundadora de la Misericordia de Terranova, la Hermana Mary Francis Creedon, que murió un día como hoy en 1855 a la edad de 44 años.
Francis fue, en palabras de la Hermana Kathrine Bellamy "La Mujer Firme", una mujer que confió, amó y vivió en medio de dificultades aparentemente insuperables, contratiempos, conflictos, pérdidas y sufrimientos, así como en las alegrías del compañerismo amoroso, las esperanzas compartidas y el servicio dedicado.
Francis era una hermana recién profesa que vivía en Baggot Street cuando Catherine McAuley murió en noviembre de 1841. Estaba entre las hermanas nombradas en el codicilo del testamento de Catalina, encargadas de preservar el carisma de la Misericordia. Francisco se tomó muy a pecho este impresionante encargo, como quedó patente en su adhesión incondicional a la misión de la Misericordia para el pueblo de San Juan. A finales de la década de 1840 y principios de la de 1850, ella y sus hermanas se convirtieron en figuras familiares en las callejuelas y callejones de St. John's, llevando comida, consuelo y esperanza a las personas, muchas de las cuales vivían en una pobreza y miseria deplorables.
En la primavera de 1855, las luchas y penurias de los primeros días de la misión, las responsabilidades escolares, las visitas regulares a los enfermos incluso en tiempos de epidemias, la instrucción de las jóvenes que ingresaban en la Orden, la apertura de un orfanato y de una enfermería para atender a los huérfanos enfermos en el Convento de la Misericordia empezaron a hacer mella en la salud de Francis. Sin embargo, el 2 de julio, menos de dos semanas antes de su muerte, presidió una ceremonia para la recepción de Anastasia Tarrahan, la primera mujer nacida en Terranova que ingresaba en la comunidad.
A la muerte de Francisco, el 15 de julio, sólo quedaban cuatro hermanas jóvenes, una de ellas novicia, para continuar la misión. Inspiradas sin duda por su espíritu y su ejemplo, crearon un legado de compasión, compromiso y valentía que ha caracterizado a nuestra congregación hasta nuestros días. Por ello, estamos agradecidas a Francis Creedon y a todas nuestras antecesoras en la Misericordia. Habiendo recibido Misericordia, Francisco se convirtió en Misericordia. Esta es nuestra llamada, nuestro reto, nuestro regalo…