July 31, 2017
From its foundation the Mercy Congregation has had a special ministry to the poor. Care for the poor and oppressed was especially dear to Catherine McAuley's heart and the driving force behind her decision to found a religious order. "Service of the poor, the sick and the ignorant" is considered to be a fourth vow of the Sisters of Mercy.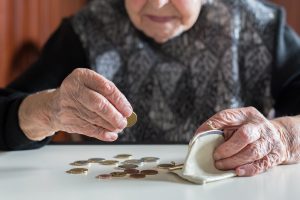 Immediately on their arrival in St. John's the three founding members of the Newfoundland mission, Sisters Ursula Frayne, Rose Lynch and Francis Creedon, began the visitation of the poor and the sick in their homes.
Over the years even though many of the sisters have been fully occupied in their teaching and nursing ministries they found time to visit individuals and families in need. In addition to the more "informal visitation," ministry to the poor has taken on a more structured format in facilities like the Gathering Place, Food Banks, Prisons, Women's Centres, Breakfast or Lunch Programs, Family Care Centres.
Whether formally organized or not, care and attentiveness for the poor has been part of our Mercy culture: a poor child in the school, a poor patient in the hospital or nursing home, poor families in the neighbourhood, or a poor person begging food at the door. Love and care for the poor and a congregational option for the poor is the challenge and the blessing of the Gospel and of our Mercy charism.
Desde su fundación, la Congregación de la Misericordia ha tenido un ministerio especial para con los pobres. El cuidado de los pobres y oprimidos era especialmente querido en el corazón de Catalina McAuley y la fuerza impulsora de su decisión de fundar una orden religiosa. El "servicio a los pobres, los enfermos y los ignorantes" se considera el cuarto voto de las Hermanas de la Misericordia.
Inmediatamente después de su llegada a San Juan, los tres miembros fundadores de la misión de Terranova, las hermanas Úrsula Frayne, Rose Lynch y Francis Creedon, comenzaron a visitar a los pobres y enfermos en sus casas.
A lo largo de los años, aunque muchas de las hermanas han estado plenamente ocupadas en sus ministerios de enseñanza y enfermería, han encontrado tiempo para visitar a personas y familias necesitadas. Además de las "visitas informales", el ministerio con los pobres ha adoptado un formato más estructurado en lugares como el Gathering Place, los bancos de alimentos, las prisiones, los centros de mujeres, los programas de desayuno o comida y los centros de atención familiar.
Organizado formalmente o no, el cuidado y la atención a los pobres ha formado parte de nuestra cultura de la Misericordia: un niño pobre en la escuela, un paciente pobre en el hospital o en la residencia de ancianos, familias pobres en el barrio, o un pobre pidiendo comida en la puerta. El amor y la atención a los pobres y una opción congregacional por los pobres es el reto y la bendición del Evangelio y de nuestro carisma de la Misericordia.