July 22, 2023
Three years ago Pope Francis designated the fourth Sunday of July as World Day for Grandparents and the Elderly. This year it falls on July 23, the nearest Sunday to July 26, the feast of St. Anne and St. Joachim, grandparents of Jesus.
The motto for this year's celebration is God's Mercy is from Age to Age (Lk 1:50). In his message Pope Francis invites us to reflect on the bond that unites young and old. He reminds us that "that our life is meant to be lived to the full, and that our greatest hopes and dreams are not achieved instantly but through a process of growth and maturation, in dialogue and in relationship with others". He continues" God's loving plan spans past, present and future; it embraces and connects the generations. It is greater than we are, yet includes each of us and calls us at every moment to keep pressing forward."
Read Pope Francis' Message for the World Day for Grandparents and the Elderly 2023 here
Hace tres años, el Papa Francisco designó el cuarto domingo de julio como Jornada Mundial de los Abuelos y los Ancianos. Este año cae el 23 de julio, el domingo más cercano al 26 de julio, fiesta de Santa Ana y San Joaquín, abuelos de Jesús.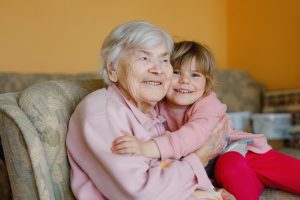 El lema de la celebración de este año es La misericordia de Dios es de edad en edad (Lc 1,50). En su mensaje, el Papa Francisco nos invita a reflexionar sobre el vínculo que une a jóvenes y mayores. Nos recuerda que "nuestra vida está hecha para ser vivida en plenitud, y que nuestras mayores esperanzas y sueños no se alcanzan instantáneamente, sino a través de un proceso de crecimiento y maduración, en el diálogo y en la relación con los demás". El plan de amor de Dios abarca el pasado, el presente y el futuro; abarca y conecta las generaciones. Es más grande que nosotros, pero nos incluye a cada uno y nos llama en cada momento a seguir adelante."
Lea el Mensaje del Papa Francisco para la Jornada Mundial de los Abuelos y de los Ancianos 2023 aquí