October 14, 2013
In the sanctuary of Holy Rosary Church, Portugal Cove, Newfoundland there are three stained glass windows.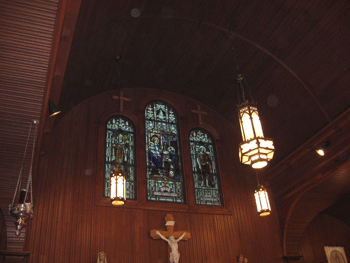 The centre and larger window is in memory of the Right Reverend Michael Anthony Fleming, OSF. The other two are in memory for Fr. Edward Troy and Fr. Thomas O'Connor who were the first two pastors of the parish, 1833 – 1844 and 1844 – 1884 respectively. St. Patrick is depicted on the window on the left and St. John the Baptist on the other. The window located at the centre of the three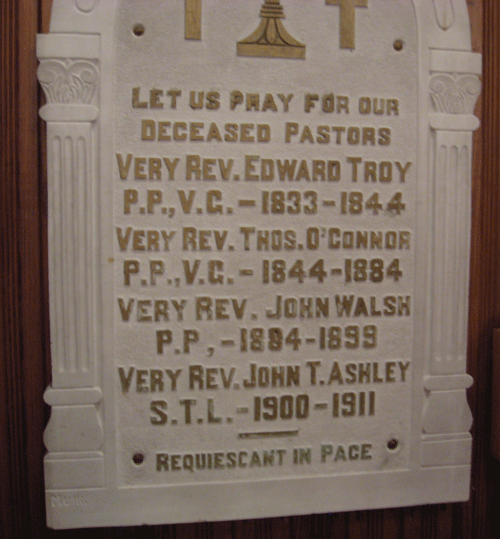 depicts Mary seated on a throne-like chair and holding the infant Jesus on her lap – an image much like the picture of Mary, Mother of Mercy,  that hangs in the chapel at the Mercy International Centre, 64 Lower Baggot Street, Dublin.  Mary is holding out to a monk a rosary with a black ebony cross with a smaller white cross at the centre. (Portugal Cove had been one of Bishop Fleming's mission churches until he had more priests to send there).  It is interesting to make note of such an image considering the connection of Bishop Fleming with Catherine McAuley and the Sisters of Mercy at Baggot Street. Bishop Fleming was a Franciscan from Carrick-on- Suir who came to Newfoundland in 1823 to assist his fellow Franciscan, Bishop Thomas Scallon, in caring for the Irish Catholics in St. John's. Bishop Fleming knew Catherine McAuley and visited Baggot Street very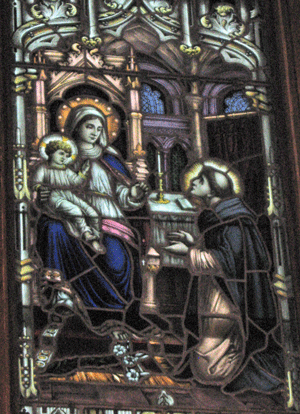 often especially since he was supporting a niece, Annie Fleming and also Marianne Creedon an Irish girl whom he had sent from St. John's to the new Mercy Institute to be formed by the foundress. The plan was that she would be professed for the establishment of a Mercy convent in St. John's. Marianne was professed (Sister Mary Francis) in August, just a few months before Catherine McAuley died on November 11, 1841.
Catherine's commitment to establish a foundation in Newfoundland was honored by her successor, Mother M. dePazzi, and Bishop Fleming accompanied Sister M. Francis along with Sisters Ursula Frayne and Rose Lynch back to Newfoundland. The three Sisters of Mercy and a postulant arrived in St. John's harbour on June 3, 1842.