June 3, 2016
The first Sister to enter our Congregation in Newfoundland and also to be the first Sister to die in Newfoundland was buried in what has come to be known as "The Forgotten Graveyard." A number of our Sisters gathered with members of the Benevolent Irish Society (BIS) and other community members on Saturday, May 28, 2016 to dedicate a plaque in memory of the first Catholic graveyard in St. John's as well as to honour the memory of Sister Mary Joseph Nugent. This plaque has been installed on the stone wall near the bottom of Long's Hill.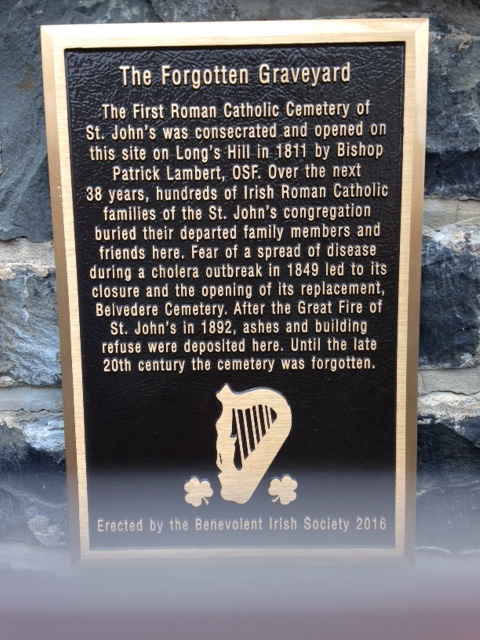 The Forgotten Graveyard, located on the grounds on which the Kirk now stands and extended to Queens Road and west to Long's Hill, opened in 1811 but was no longer in use by 1849. In those years over 400 people were buried there.
A fire in 1846 caused extensive damage to the graveyard. Then the typhus epidemic, which broke out in June 1847, saw many Irish people buried there – including our Sister Mary Joseph Nugent who died on June 17, 1847 having contracted typhus as she ministered to the people who were sick and dying from this terrible epidemic. Fear that the town's water would be tainted from the disease caused the graveyard to be closed and Catholics began to be buried in the recently opened Belvedere Cemetery.
The Great Fire of 1892, which destroyed most of St. John's, did further damage to the Long's Hill Graveyard since much of the debris from the fire was dumped on the site. At that time, many bodies were moved from there to Belvedere Cemetery. In speaking to the gathered group at the BIS event on Saturday, Larry Dohey, from The Rooms, noted that not all of the bodies were removed from Long's Hill. Later, one of us asked him if the bodies not moved were those who had died from the 1847 typhus epidemic. And he replied "yes".
Now that the BIS has brought forward the knowledge of the "Forgotten Graveyard" there is a further desire to re-establish the area as a sacred space. Mr. Bruce Templeton spoke during the ceremony on behalf of The Kirk. He told the gathering that he first heard of the Forgotten Graveyard from Sister Patricia March! He further explained that when you step out of the Kirk you are actually in the graveyard. Mr. Templeton finished his remarks by saying that the people of The Kirk and the BIS are planning to go further in making the area a sacred space once again.