March 3, 2010
St. Teresa's Parish "Saturday Evening" choir performed on Sunday afternoon, February 28 in the Church Choir group at the Kiwanis 2010 Festival held in St. John's. About thirty five men and women were directed by Mr. Robin Williams and accompanied by Mrs. Brenda Mooney. The adjudicator praised their performance of Mozart's Ave Verum Corpus and Leo Nestor's Virgin, Great and Glorious, giving them top marks against a competing choir. Sister Loretta Dower, a Sister of Mercy, St. Teresa's Convent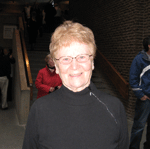 is a choir member and was delighted with the
choir's performance. A number of Sisters, family and friends of choir members attended to cheer them on. The pastors of St. Teresa's Parish were there too. Congratulations to Sister Loretta and to St. Teresa's.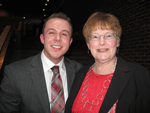 The Kiwanis Music Festival is an annual event beginning with a two-day festival in 1952 with 193 entries and two adjudicators; in 2010 it spans 12 days, with well over 6,000 participants and nine adjudicators. It is the largest festival in eastern Canada.
Musicians young and old have come to appreciate the "Festival" and enjoy this competitive opportunity to showcase their musical talent and their love and commitment to voice, instrumental and choral music. Every performer or group has the opportunity hear and learn from the instant evaluation of their performance by the expert and professional adjudicators. The adjudicators speak to them in order to teach and encourage. Marks are given, even though sometimes an adjudicator admits difficulty in giving marks to one group over the other.
Sisters of Mercy and their students in St. John's and area schools have been part of the Kiwanis Music Festival since its foundation. Thousands of the sisters' students – solists, duos and trios and combinations of the same, choirs, choral speech groups, instrumentalists, orchestras and bands from St. John's, Bell Island, Goulds, Bay Bulls, Brigus, Conception Harbour and from as far as Marystown have entered the festival and have excelled.
Much is owed to the music teachers of our Congregation and of the Presentation Congregation for their commitment to music and culture and for nurturing the innate talent of the youth of our province. They are the true and consistent pioneers of our musical heritage. Some of them have rightly been inducted as members of the Hall of Fame of the Music Festival Association. There are no sisters taking groups to the Festival these days but their many students are doing that now. The baton has been passed and is calling forth the best of music in the next generations!