May 1, 2023
1 May is celebrated as the Feast of St. Joseph the Worker.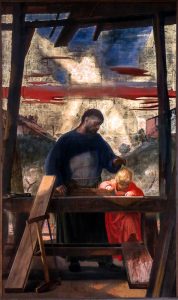 This special feast was instituted in 1955 by Pope Pius X11 as a counter-celebration to the communist May Day. It celebrates the dignity of work and gives us an opportunity to acknowledge, pray for and express gratitude to all workers, especially those who are employed in our congregation and in our various ministries.
Thank you for your many and varied contributions to the congregation's life and mission.
May 1 is also known as International Workers' Day and in some countries, it is celebrated as Labor Day.
May St. Joseph, patron of workers, bless and protect all workers!
El 1 de mayo se celebra la fiesta de San José Obrero.
Esta fiesta especial fue instituida en 1955 por el Papa Pío X11 como contra-celebración del Primero de Mayo comunista. Se celebra la dignidad del trabajo y nos da la oportunidad de reconocer, orar y expresar gratitud a todos los trabajadores, especialmente a los que trabajan en nuestra congregación y en nuestros diversos ministerios.
Gracias por sus muchas y variadas contribuciones a la vida y misión de la congregación.
El 1 de mayo es también conocido como el Día Internacional de los Trabajadores y en algunos países se celebra como el Día del Trabajo.
Que San José, patrón de los trabajadores, bendiga y proteja a todos los trabajadores!