November 3, 2008
On September 26, 2008 Sister Elizabeth Davis was one of four recipients who were awarded an honorary fellowship in the Royal College of Physicians and Surgeons of Canada.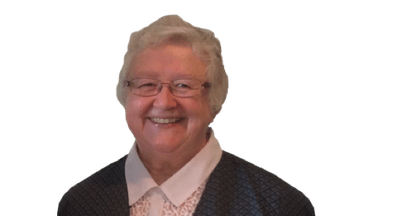 In its designation, the College noted that the award "honours distinguished physicians, surgeons and others for outstanding performance in a particular vocation or a specific area of professional activity. The 2008 recipients are exceptional individuals whose contributions through their commitment to human rights, leadership and collaboration at all levels of society are exemplary". Sister Elizabeth received the award in recognition of her leadership in health services and health education.
Sister Elizabeth has been a public representative on the Royal College Council since 2004. Since 2006 she has served as chairperson of the Governance Task Force of the Council and was named the Council's lecturer for the year 2006. The Award was presented at the 2008 Convocation of the Royal College held in Ottawa.
Recently, Sister Elizabeth was named the 2008 Alumna of the Year of Memorial University of Newfoundland, receiving the Lifetime Achievement Award. The award "recognizes an individual's contribution to and distinction in their chosen professional fields. It honours individuals who inspire others by displaying exceptional human values". Sister Elizabeth was chosen as the 2008 recipient of this Award for her remarkable energy, her insight, enthusiasm and compassion, having made a giant contribution to the health care education and services in the province. The Alumna presented Sister Elizabeth with a beautiful armillary sphere which the University had adopted as a symbol of exploration, discovery and leadership for recipients of its Lifetime Achievement Award.
In her acceptance of the Award, Sister Elizabeth noted that in the "Hebrew and Christian Scriptures, there is an image of Woman Wisdom who 'passes into souls and makes them friends of God and prophets.' I accept this honour knowing that I am being honoured, not for my own personal gifts, but for the many 'friends of God and prophets' with whom I have been privileged to walk."
The Award was presented on October 23 at the Memorial University's annual Alumni Tribute Awards ceremony.