March 12, 2007
On February 20, 2007 the Governor General of Canada announced the appointment of Sister Kathrine Bellamy, RSM, to the Order of Canada, the country's highest honour.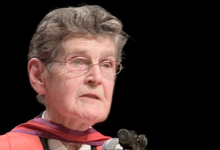 The Order recognizes the outstanding achievement and service of individuals in various fields of human endeavour. Sister Kathrine is receiving the honour for her achievement in the field of music and for her outreach to the poor and needy.
In the field of music, Sister Kathrine's contribution is noteworthy. In the schools of Newfoundland she served as director of choral music, taught instrumental and vocal music, theory and history of music. In 1965 Our Lady of Mercy Glee Club, under Sister Kathrine's direction, won the award as the best junior choir (nineteen years and under) in Canada. In 1978 her choir took first place in an international choral competition in Toronto, Ontario, while she received the award for best director. Sister Kathrine co-founded and served as first vice-president of the Music Council of the Newfoundland Teachers' Association. In acknowledgment of her contribution to the Kiwanis Music Festival Association, she was inducted into its Hall of Honour in 2002. Sister Kathrine had been central to the music ministry of the Basilica of St. John the Baptist in St. John's, having served as music coordinator, choir director and organist for parish functions and parish liturgies for twenty-four years.
In 1980 Sister Kathrine became director of Outreach to the Poor of the Basilica Parish of which one division was the Family Care Centre. In 1994 she initiated an ecumenical endeavour whereby two Roman Catholic and three Anglican parishes united in their efforts to form Emmaus House, an interdenominational Centre serving the poor of the area. She co-founded Voices for Justice in Housing, and the Community Food Sharing Association, serving as its first vice-president on its Board of Directors. Recently, she authored the story of the Sisters of Mercy in Newfoundland, Weavers of the Tapestry.
In acknowledgment of her contributions, Sister Kathrine has received an honorary Doctor of Laws from Memorial University of Newfoundland, the Papal Honour of the Cross, Pro Ecclesia et Pontifice, and the Order of Newfoundland and Labrador.
Sister Kathrine will receive the insignia of the Order of Canada at a ceremony at Rideau Hall in Ottawa later in the year.
El 20 de febrero de 2007, el Gobernador General de Canadá anunció el nombramiento de la Hermana Kathrine Bellamy, RSM, a la Orden de Canadá, el más alto honor del país.
La Orden reconoce los logros y servicios sobresalientes de personas en diversos campos del quehacer humano. La Hermana Kathrine recibe esta condecoración por sus logros en el campo de la música y por su ayuda a los pobres y necesitados.
En el campo de la música, la contribución de la Hermana Kathrine es digna de mención. En las escuelas de Terranova fue directora de música coral, enseñó música instrumental y vocal, teoría e historia de la música. En 1965, el coro Our Lady of Mercy, bajo la dirección de la Hermana Kathrine, ganó el premio al mejor coro juvenil (de diecinueve años o menos) de Canadá. En 1978 su coro obtuvo el primer puesto en un concurso coral internacional en Toronto, Ontario, mientras que ella recibía el premio a la mejor directora. La hermana Kathrine fue cofundadora y vicepresidenta primera del Consejo de Música de la Asociación de Profesores de Terranova. En reconocimiento a su contribución a la Asociación del Festival de Música Kiwanis, fue incluida en su Salón de Honor en 2002. La hermana Kathrine había sido fundamental en el ministerio de la música de la Basílica de San Juan Bautista en St. John's, habiendo sido coordinadora de música, directora de coro y organista de las funciones parroquiales y liturgias parroquiales durante veinticuatro años.
En 1980, la Hermana Kathrine se convirtió en directora de Ayuda a los Pobres de la Parroquia de la Basílica, una de cuyas divisiones era el Centro de Atención Familiar. En 1994 inició un esfuerzo ecuménico por el que dos parroquias católicas romanas y tres anglicanas unieron sus esfuerzos para formar Emmaus House, un centro interconfesional al servicio de los pobres de la zona. Fue cofundadora de Voices for Justice in Housing (Voces por la Justicia en la Vivienda) y de la Community Food Sharing Association (Asociación Comunitaria para Compartir Alimentos), de cuyo Consejo de Administración fue su primera vicepresidenta. Recientemente ha escrito la historia de las Hermanas de la Misericordia de Terranova, Weavers of the Tapestry.
En reconocimiento a sus contribuciones, la Hermana Kathrine ha recibido un Doctorado Honoris Causa en Derecho de la Universidad Memorial de Terranova, la Distinción Papal de la Cruz, Pro Ecclesia et Pontifice, y la Orden de Terranova y Labrador.
La Hermana Kathrine recibirá la insignia de la Orden de Canadá en una ceremonia que tendrá lugar en el Rideau Hall de Ottawa a finales de año.