July 20, 2017
Sister Mary Bernard Gladney (1902- 1974) was the First Administrator of St. Clare's and Rural Nurse extraordinaire.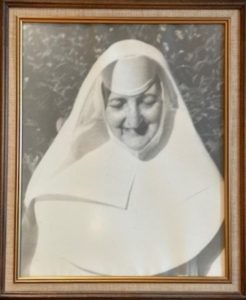 Alice Maud Gladney, known to us as Sister Mary Bernard, was born in Portugal Cove in December of 1883. Her reception into the Sisters of Mercy in April 1902 was the first of many reception and profession ceremonies to take place in the new Littledale chapel, constructed in that same year as part of the Talbot Wing on the Littledale property..
On September 29, 1913 Sister Mary Bernard was assigned to be part of the first community of St. Clare's Home, a hostel for working girls, located in the White House on LeMarchant Road, St. John's, which came to be known as St. Clare's Mercy Convent. The Home operated for nine years and although the need for such a ministry was still there, the need for a Catholic hospital became even more urgent. Sister Mary Bernard's dream was to become a nurse, and she was overjoyed when Archbishop Roche arranged for her to study nursing in Ireland in preparation for opening a hospital run by the Sisters of Mercy. The outbreak of World War One made it too dangerous for her to travel overseas, and eventually she began a three- year nursing program at Mercy Hospital in Pittsburgh.
In October 1921, Sister Mary Bernard returned to St. Johns as a registered nurse, having completed extra studies in radiography, anesthesia, and laboratory, leaving her well-equipped to handle any emergency. She was assigned again to St. Clare's Home, remaining there until it closed in May of 1922 to make way for the new hospital. In a mere three weeks the Home was adapted to a 20-bed hospital and Sister Mary Bernard became its first administrator. The first staff of the new St. Clare's Mercy Hospital consisted of one more RN, Alice Casey, and two nursing assistants, Sisters Catherine Greene and Gabriel Fleming. With such a small nursing staff, Sister Mary Bernard was delighted to have the on-call services of twelve of the most competent doctors in the city. However, without such supports as regular hours or days off, Sister Mary Bernard often worked well into the night, until overtired and overworked, she succumbed to tuberculosis little more than a year after this critical ministry began. What a cross this must have been for her, for Archbishop Roche who had such dreams for St. Clare's, for the Sisters of Mercy and for the fledgling hospital itself. The congregation arranged for Sister Mary Bernard to go to a sanitarium in New York for rest and treatment, and St. Clare's closed its doors for several months. Two Sisters from Mercy Hospital in Baltimore came on loan to St. Clare's to get the hospital back on its feet.
Interestingly, when Sister Mary Bernard returned to St. John's she was appointed, not to St. Clare's, where Sister Mary Aloysius Rawlins had already been named superior and hospital administrator, but as staff nurse to Belvedere and then to St. Bride's Boarding School. Her next assignment was St. Lawrence and it was here that she found the greatest scope for her nursing skills and for her strong desire to help people in need. St. Lawrence had been without a doctor for six years and government's repeated attempts to procure a medical resident had proved fruitless. Mother Philippa's visitation to the convent in St. Lawrence in the summer of 1934 enabled her to get a first-hand look at the needs of the area. After assessing the dire situation, she and her Council named Sister Mary Bernard superior of the convent in St. Lawrence, a decision that proved to be providential both for the town and for Sister Mary Bernard, who became the area's medical officer. Sister Mary Bernard's medical knowledge and her well­ honed nursing skills were just what the town needed, and she responded with eagerness but perhaps not without a tinge of trepidation to this huge challenge. With her companion, Sister Mary Borgia Kenny, she cared for the sick in St. Lawrence and surrounding areas for the next six years. My mother was employed at the convent for part of that time, so I heard firsthand of the exploits of these two brave and dedicated sisters.
Upon arrival in St. Lawrence Sister Mary Bernard had converted a small room at the convent for use as a clinic, where people could come for medical advice and treatment. She set broken bones, pulled teeth, delivered babies, stitched open wounds, cared for miners in times of accidents, listened kindly and patiently to people's problems and did whatever needed to be done for her people. With wonderful insight for the town's future well-being, she trained a group of local women in midwifery. Sister Mary Bernard would often bring a sick patient to stay at the convent if the home circumstances could not provide the necessary care and attention. She and Sister Borgia devoted several hours each day to home visitation – on foot, by open boat, or in winter by horse and sleigh. Reminiscing about her days in St. Lawrence, Sister Borgia recalled instances of clambering down into a tossing dory in the middle of the night on their way to deliver a baby or attend to a medical emergency, with Sister Bernard holding tightly to the skirt of her white habit. These two valiant women of Mercy answered all calls in all weathers and the people knew that their every request would be attended to with grace, kindness, and competence.
But Sister Mary Bernard was not only superior of the convent and chief medical officer for the area. She immersed herself in the life of the community, staging many concerts and even operettas. In the mid -1930s the people of St. Lawrence were still suffering from the effects of the tidal wave of 1929 and were in the throes of the Great Depression. Life was very difficult for families, and government aid amounted to a mere six cents a day per person. Sister Mary Bernard was all too aware of the misery surrounding her, but she knew the power of music and drama to uplift the spirits of the people and give them a respite from the struggles of daily life. In her recollections of life in St. Lawrence in the 1930s and 40s, Mrs. Ena Farrell-Edwards, a local historian, spoke of Sister Mary Bernard as a shining light in dark and difficult times, calling her the Mother Teresa of St. Lawrence.
After her return from St. Lawrence in 1940, Sister Mary Bernard went to Belvedere where she spent the next 34 years of her life. There, her surgery became a refuge for many children who just needed to hear her say God bless you, my pet. Many would fake an ailment as an excuse to visit this gentle, compassionate sister who knew how to soothe every ache or pain. Those of us who knew her remember a kindly countenance, a welcoming smile and a warm, listening heart. Being in Sister Mary Bernard's presence gave one the feeling of being special, worthy of all her attention. Day in and day out, she lived her gift of compassionate presence, that quality of Mercy that is at the heart of what it means to be a Sister of Mercy.
Sister Mary Bernard died in 1974 and remains a shining light in the story of Mercy in Newfoundland.
 (Article by Sister Charlotte Fitzpatrick, RSM)