August 30, 2016
On July 28 we celebrated the foundation of St. George's Convent at Sandy Point, Bay St. George. This summer, 2016, Sister Ellen Marie and Alverna were excited to pay a visit to the island on this anniversary date. They explored the area but did not find the Catholic Cemetery or other location that might link them with the life of the Sisters of Mercy at Sandy Point. For them it was special to be there!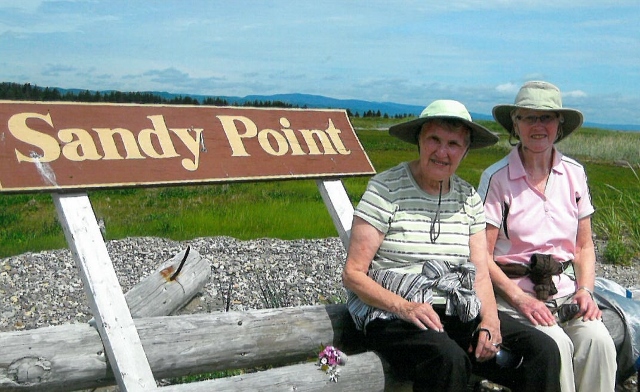 In 1893, 123 years ago, four Sisters of Mercy and their benefactor, Henrietta Brownell, accompanied by Bishop Michael F. Howley, arrived at the small active fishing and trading community to establish a convent.
The four Sisters, M. Antonio Egan, M. Corsini Dempsey, M. Sylvester Carver, Veronica Payne gave up their life in a well-establish part of Providence, Rhode Island to come to the "mission territory" of Bay St. George, on the west coast of Newfoundland. The intention was that the sisters would take over the school already functioning at Sandy Point with plans to open a place for higher education at a later time. The future was looking very bright! Throughout the years, despite many hardships and struggles the mission prospered and students succeeded not only in academic subjects but also in music, song, art and needlework.
The railway line had been constructed across the island of Newfoundland and St. George's was the community that built up around it. It seemed advantageous to move the church and school to that location. And so it came to be. In 1899 St. George's, on the shore opposite to Sandy Point, a new school was ready for occupancy. The Church, convent and school moved to St. George's. By 1900 St. Michael's Academy welcomed its first two resident students. An extension to accommodate the growing number of students and sisters was completed in 1913. In 1914 St. Michael's was recognized as a teacher-training facility, tasked to prepare Catholic teachers for schools in the west coast of Newfoundland. St. Michael's Academy was a centre of education and culture. The Superintendant of Schools wrote in his 1914 annual report: Since the establishment of the school, there has been a steady upward trend in the conditions of the locality, and it has done not a little toward helping to promote educational activity which is noticeable on the west coast.
For complete story of the Sandy Point Foundation read:  http://www.mercyworld.org/heritage/tmplt-foundressstory.cfm?loadref=248