November 11, 2010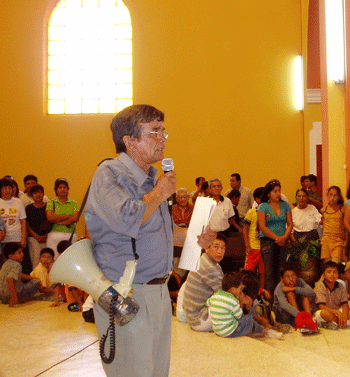 On September 29, 2010 Feast of the Archangels Michael. Raphael and Gabriel and birthday of Venerable Catherine McAuley, Padre Victor was buried in the garden of his parish church in Reque, Peru.
Three days earlier, after weeks of serious illness and hospitalization, Padre Victor made his final life's journey surrounded by loving prayer, song and attentiveness, hope and patient waiting of his people. Victor was much loved. He dedicated his life to being the padre to his parishioners and their families. He loved his life, his faith and his church and his God. He lived the joy of the gospel and stood strong in the face of injustice- he was fierce advocate for his people and cared not only for their souls but also for their dignity and rights. Padre Victor was a strong man yet sickness was stronger and defeated him, in body, but not in spirit nor in the legacy that he leaves to those who knew him. Padre Victor will not be forgotten.
Padres Emigido and Lucho have shared so much of life with Victor from their young days.  The three were lovingling known as the three amigos. In speaking of Victor throughout the days before the funeral they stressed over and over his gift of love of life, his "Alegria" which he passed on to all, his total dedication to the people especially the "más pobres", his untireless service not only to his parish, but nationally, to the whole diocese.  There was lots of great singing led by Reque Parish choir, lots of clapping in the midst of the reflection, etc. 
The funeral was an especially blessed moment.  There were crowds in the thousands in the plaza where the funeral took place.  The altar was set in the door of the church facing the plaza.   The Bishop officiated with fifty-two priests attending.  Among the priests were Eugene Roy from Ontario and Jose Alverez Calderon, a great liberation Theologian based in Lima.  There was extensive lay participation in the Mass          
After Mass, the body of Padre Victor was brought in procession around the plaza with a special ceremony in front of the Municipal building.  His body was then taken to the garden in front of the church where Victor is now buried.  There is a small plaque marking his burial place, but a bigger monument is being planned for.  Words used to describe Victor were "the saint of Reque," "our joyful, happy saint in heaven," and "the alma (spirit) of catechesis familiar."
Victor was known and loved by many Sisters of Mercy of Newfoundland and by some of the priests who worked with him in Peru.  He is sorely missed.
Tu nos has muerto; viveras en nuestros corozones y te recordaremos