July 12, 2022
One hundred fifty-nine years ago this coming week, the Burin Peninsula welcomed the first Sisters of Mercy to its shores.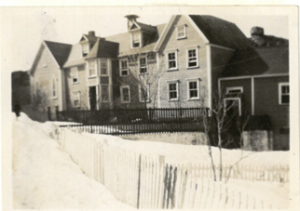 Persistent efforts by Burin's zealous pastor, Father Michael Berney, for whom the education of the children of his parish was of prime importance, finally convinced Mother Xavier Bernard to make a positive response to his entreaties.  St. Anne's Convent (pictured at right) opened on July 12, 1863. The founding sisters were: Irish-born Sister M. Liguori Carmody; Sister M. Xavier Tarrahan, a Newfoundlander; Sister M. Charles McKenna, also Irish; Mary McAuliffe, a postulant.
The Newfoundlander of July 20, 1863 published a letter describing the arrival of the sisters at the government wharf in Burin on board the steamship Ariel, after a journey of more than twenty-four hours. There, a "tasteful Triumphal Arch" had been erected,  and the long -awaited sisters were greeted with cannon shots and loud cheering from the throngs of people gathered to welcome them. After a visit to the church to receive the bishop's blessing on the new venture, they were escorted to the priest's housefor "a collation" by a procession of little girls in white dresses who strewed their path with flowers.
It was an auspicious beginning for St. Anne's, and the start of a wonderful relationship between the sisters and the people of Burin. The subsequent story of this foundation bears witness to the marvelous ministry of many gifted and dedicated Sisters of Mercy over the years.