July 12, 2022
One hundred fifty-nine years ago this coming week, the Burin Peninsula welcomed the first Sisters of Mercy to its shores.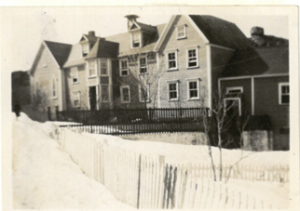 Persistent efforts by Burin's zealous pastor, Father Michael Berney, for whom the education of the children of his parish was of prime importance, finally convinced Mother Xavier Bernard to make a positive response to his entreaties.  St. Anne's Convent (pictured at right) opened on July 12, 1863. The founding sisters were: Irish-born Sister M. Liguori Carmody; Sister M. Xavier Tarrahan, a Newfoundlander; Sister M. Charles McKenna, also Irish; Mary McAuliffe, a postulant.
The Newfoundlander of July 20, 1863 published a letter describing the arrival of the sisters at the government wharf in Burin on board the steamship Ariel, after a journey of more than twenty-four hours. There, a "tasteful Triumphal Arch" had been erected,  and the long -awaited sisters were greeted with cannon shots and loud cheering from the throngs of people gathered to welcome them. After a visit to the church to receive the bishop's blessing on the new venture, they were escorted to the priest's housefor "a collation" by a procession of little girls in white dresses who strewed their path with flowers.
It was an auspicious beginning for St. Anne's, and the start of a wonderful relationship between the sisters and the people of Burin. The subsequent story of this foundation bears witness to the marvelous ministry of many gifted and dedicated Sisters of Mercy over the years.
More stories documenting our Newfoundland Mercy Story can be read in "Archival Moments"
La próxima semana hará ciento cincuenta y nueve años que la península de Burin acogió en sus costas a las primeras Hermanas de la Misericordia.
Los insistentes esfuerzos del celoso párroco de Burin, el padre Michael Berney, para quien la educación de los niños de su parroquia era primordial, convencieron finalmente a la madre Xavier Bernard para que respondiera positivamente a sus súplicas. El convento de Santa Ana (en la foto de la derecha) abrió sus puertas el 12 de julio de 1863. Las hermanas fundadoras fueron: Sor M. Liguori Carmody, de origen irlandés; Sor M. Xavier Tarrahan, de Terranova; Sor M. Charles McKenna, también irlandesa; Mary McAuliffe, postulante.
El Newfoundlander del 20 de julio de 1863 publicó una carta que describía la llegada de las hermanas al muelle gubernamental de Burin a bordo del vapor Ariel, después de un viaje de más de veinticuatro horas. Allí se había erigido un "elegante Arco de Triunfo", y las tan esperadas hermanas fueron recibidas con cañonazos y fuertes vítores de la multitud de gente reunida para darles la bienvenida. Después de una visita a la iglesia para recibir la bendición del obispo, fueron escoltadas a la casa del sacerdote para "una colación" por una procesión de niñas vestidas de blanco que llenaron su camino de flores.
Fue un comienzo auspicioso para Santa Ana, y el inicio de una maravillosa relación entre las hermanas y el pueblo de Burin. La historia posterior de esta fundación es testimonio del maravilloso ministerio de muchas Hermanas de la Misericordia dotadas y entregadas a lo largo de los años.
Se pueden leer más relatos que documentan nuestra historia de la Misericordia en Terranova en "Momentos de archivo".