May 27, 2023
(Marianne Creedon, born in 1811 in Coolowen, Co. Cork, went to Newfoundland with her sister's family when she was 22 years old.  Bishop Fleming, an Irish Franciscan, negotiated with Catherine McAuley to send Marianne back to Dublin to prepare to establish a convent of the Sisters of Mercy in Newfoundland.  Marianne entered in 1839, was received in 1840 and professed in August 1841 with the religious name, Mary Francis.) 
On June 3, 1842, Sisters Francis Creedon, Ursula Frayne and Rose Lynch arrived in St. John's, Newfoundland from the port of Kingstown, Ireland, on the ship the Sir Walter Scott to establish the Sisters of Mercy, the first foundation outside of Ireland and England.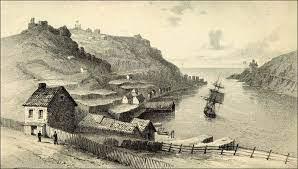 What must have been their thoughts as they looked upon the forbidding landscape with its towering rocky c liffs and craggy head lands ? Although they had seen poverty in Ireland, t he abject poverty of this place with its rude shacks and derelict fishing stages perched on the side of the hills, would have seared their hearts and minds. Sister Francis had lived in the colony for six years, but for Sisters Ursula and Rose the scene before them must have caused some dismay and distress.
After a harrowing climb from the ship's deck down to the small boat bobbing on the heaving sea, they made their way through the Narrows to St. John's wharf. There they found a throng of people waiting to welcome them. Undoubtedly, the family of Sister Francis was among them, eager to see her after an absence of th ree years. Bishop Fleming transported them in his own carriage to his house on Henry Street, where they were to reside until thei r convent was built. What a momentous day this was! They were literally and figuratively transported to a new world, a world f ull of
promise and full of challenge. What relief they must have fel t to sleep in a bed after a month of rolling and tossing on the Atlantic How they must have prayed , thanking God f or a safe journey and begging for the courage and strength to carry out t he mission entrusted to them.
We are grateful for the spirit of Mercy that impelled them and for the legacy of compassion, courage, creativity, and commitment that we have inherited as Sisters of Mercy of Newfoundland.
We celebrate this day with great joy and gratitude.
Join us in prayer of gratitude today: Reflection Foundation 3 June 2023
More stories documenting our Newfoundland Mercy Story can be read in "Archival Moments"
(Marianne Creedon, nacida en 1811 en Coolowen, Co. Cork, fue a Terranova con la familia de su hermana cuando tenía 22 años. El obispo Fleming, un franciscano irlandés, negoció con Catherine McAuley el envío de Marianne de vuelta a Dublín para preparar la fundación de un convento de las Hermanas de la Misericordia en Terranova. Marianne ingresó en 1839, fue recibida en 1840 y profesó en agosto de 1841 con el nombre religioso de Mary Francis).
El 3 de junio de 1842, las Hermanas Francis Creedon, Ursula Frayne y Rose Lynch llegaron a St. John's, Terranova, procedentes del puerto de Kingstown, Irlanda, en el barco Sir Walter Scott para fundar las Hermanas de la Misericordia, la primera fundación fuera de Irlanda e Inglaterra.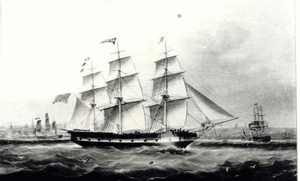 ¿Qué debieron de pensar al contemplar el imponente paisaje de acantilados rocosos y escarpados promontorios? Aunque habían visto la pobreza en Irlanda, la abyecta pobreza de este lugar, con sus rudimentarias chozas y sus abandonadas etapas de pesca encaramadas en las laderas de las colinas, les habría abrasado el corazón y la mente. La hermana Francis había vivido en la colonia
seis años, pero a las hermanas Úrsula y Rosa la escena que tenían ante ellas debió causarles consternación y angustia.
Tras una angustiosa subida desde la cubierta del barco hasta el pequeño bote que se balanceaba en el mar agitado, se dirigieron a través de los Estrechos hasta el muelle de San Juan. Allí se encontraron con una multitud de gente que les esperaba para darles la bienvenida. Sin duda, entre ellos estaba la familia de la hermana Francis, ansiosa por verla después de tres años de ausencia. El obispo Fleming los trasladó en su propio carruaje a su casa de la calle Henry, donde residirían hasta que se construyera su convento. Fue un día memorable. Fueron literal y figuradamente transportadas a un nuevo mundo, un mundo lleno de
prometedor y lleno de desafíos. Cómo debieron de rezar, dando gracias a Dios por un viaje seguro y pidiendo valor y fuerza para llevar a cabo la misión que se les había encomendado.
Estamos agradecidas por el espíritu de Misericordia que las impulsó y por el legado de compasión, valentía, creatividad y compromiso que hemos heredado como Hermanas de la Misericordia de Terranova.
Celebramos este día con gran alegría y gratitud.
Únete hoy a nosotros en oración de gratitud: Celebrando 181 Años de la Misericordia NL

Se pueden leer más relatos que documentan nuestra historia de la Misericordia en Terranova en "Momentos de archivo".