July 23, 2022
On July 28, 1893, Sisters M. Antonio Egan, M. Corsini Dempsey, M. Veronica Payne and M. Sylvester Carver, former members of the Sisters of Mercy of Providence, Rhode Island, left Boston, bound for Sandy Point on the west coast of Newfoundland. Mrs. Henrietta Brownell, a friend of Sister M. Antonio and a benefactor of the mission, along with Bishop Michael Howley, Vicar Apostolic of Western Newfoundland, accompanied the band of missionaries to their new home.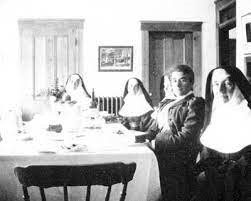 Upon arrival at Sandy Point, the sisters received an enthusiastic welcome from the people of Sandy point. The Evening Telegram of August 12, 1893 reported as follows:
As the steamer neared the wharf, a great crowd gathered and salvos
of guns were heard on every side. The line of procession from the wharf to the
Bishop's house (where the nuns are to be temporarily located) was spanned
by several arches of evergreens … and decorated with wreaths, mottoes and
flags, among which the tri-color of France was particularly conspicuous.
From the Annals of St. Michael's Convent, St. George's we learn that once the festivities were over, "the sisters found themselves face to face with the stern difficulties of mission life in a new and poor country." The annalist went on to say that "the contrast between the school environment of Sandy Point and that of Providence, Rhode Island can be better imagined than described …"
Although plagued with many difficulties and struggles in both community and ministry,
the sisters remained steadfast in their dedication to the ideals of the mission they had undertaken so eagerly. In 1899 with the construction of the railway line in St. George's, the sisters moved from Sandy Point to the new St. Michael's Convent and school in St. George's, where they were able to enjoy better accommodations and easier access to resources. The first two boarding students – Sarah Blanchard and Sarah Doyle from Codroy Valley – arrived at St. Michael's Academy in 1900 to avail of the educational opportunities of the new school. Sarah Doyle entered the Sisters of Mercy in 1906, taking the religious name of Sister Mary Dominic. She was a great-aunt of Sister Sylvia Doyle.
Foundation of Sisters of Mercy, Sandy Point from Diane on Vimeo.
Prayer/reflection for Thursday, July 28, the anniversary of the Mercy Foundation at Sandy Point
Oración/reflexión para el jueves 28 de julio, aniversario de la Fundación Mercy en Sandy Point