July 15, 2022
Today, July 15 is the 167th anniversary of the death of our Newfoundland Mercy founder, Sister M. Francis Creedon.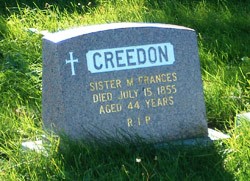 She died at the age of 44, having been professed as a Sister of Mercy for fourteen years. A woman of great fortitude, zeal for mission and commitment to the ideals of Mercy instilled in her by Catherine McAuley, Francis gave her all to the Newfoundland mission.
She faced many trials and hardships both in community and ministry, but the urgency of the mission and her conviction of the loving Providence of God at work in her life impelled her ever onward. Four young women had joined her since the death of her faithful companion, Sister M. Joseph Nugent in 1847.
The last to enter was Anastasia Tarrahan, the first native Newfoundlander, whom she received into the novitiate on July 2, less than two weeks before her death. Following that ceremony, she responded to a call to visit a dying person in the town and upon her return to Mercy Convent from that visitation she was confined to bed until her death.
The following notice was written in Bishop Mullock's diary on July 15:
Mrs. Creedon, Superioress of the Convent of Mercy died this morning, a victim of overwork for the poor and the sick.
More stories documenting our Newfoundland Mercy Story can be read in "Archival Moments"
Hoy, 15 de julio, es el 167 aniversario de la muerte de nuestra fundadora de la Misericordia de Terranova, la Hermana M. Francis Creedon.
Murió a la edad de 44 años, habiendo profesado como Hermana de la Misericordia durante catorce años. Mujer de gran fortaleza, celo por la misión y compromiso con los ideales de la Misericordia que le inculcó Catalina McAuley, Francis lo dio todo por la misión de Terranova.
Se enfrentó a muchas pruebas y dificultades tanto en la comunidad como en el ministerio, pero la urgencia de la misión y su convicción de la amorosa Providencia de Dios actuando en su vida la impulsaron a seguir adelante. Cuatro jóvenes se habían unido a ella desde la muerte de su fiel compañera, la Hermana M. Joseph Nugent en 1847.
La última en ingresar fue Anastasia Tarrahan, la primera nativa de Terranova, a quien recibió en el noviciado el 2 de julio, menos de dos semanas antes de su muerte. Después de esa ceremonia, respondió a una llamada para visitar a un moribundo en la ciudad y a su regreso al Convento de la Misericordia de esa visita fue confinada a la cama hasta su muerte.
La siguiente noticia fue escrita en el diario del obispo Mullock el 15 de julio:
La Sra. Creedon, Superiora del Convento de la Misericordia murió esta mañana, víctima del exceso de trabajo para los pobres y los enfermos.
Se pueden leer más relatos que documentan nuestra historia de la Misericordia en Terranova en "Momentos de archivo".