July 15, 2022
Today, July 15 is the 167th anniversary of the death of our Newfoundland Mercy founder, Sister M. Francis Creedon.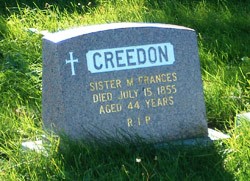 She died at the age of 44, having been professed as a Sister of Mercy for fourteen years. A woman of great fortitude, zeal for mission and commitment to the ideals of Mercy instilled in her by Catherine McAuley, Francis gave her all to the Newfoundland mission.
She faced many trials and hardships both in community and ministry, but the urgency of the mission and her conviction of the loving Providence of God at work in her life impelled her ever onward. Four young women had joined her since the death of her faithful companion, Sister M. Joseph Nugent in 1847.
The last to enter was Anastasia Tarrahan, the first native Newfoundlander, whom she received into the novitiate on July 2, less than two weeks before her death. Following that ceremony, she responded to a call to visit a dying person in the town and upon her return to Mercy Convent from that visitation she was confined to bed until her death.
The following notice was written in Bishop Mullock's diary on July 15:
Mrs. Creedon, Superioress of the Convent of Mercy
died this morning, a victim of overwork for the poor
and the sick.