November 4, 2023
Bedelia Josephine Hanley, having arrived in St. John's from Ireland in the summer of 1885 to enter the Sisters of Mercy, was received into the novitiate as Sister Mary Philippa Joseph in March of 1886.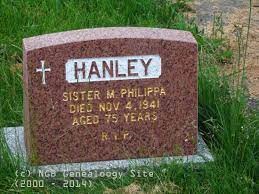 She spent the early years of her religious life at St. Michael's Convent, Belvedere and in 1904 was assigned to St. Bride's Academy, teaching student teachers and senior students. Four years later she was transferred to Sacred Heart Convent in St. Lawrence, where she endeared herself to both students and parents. Upon her return to Belvedere in 1910 she took on the responsibilities of superior and novice mistress.
When the Convents of Mercy in Newfoundland amalgamated in 1916, Archbishop P.J. Roche appointed the first General Council of the new Congregation of the Sisters of Mercy of Newfoundland for a three-year period. Sister M. Philippa was a memberof that first Council and in 1919 was elected to the position. When Sister M. Bridget O'Connor became ineligible for re-election in 1925, Sister M. Philippa was unanimously elected Mother General. One of the first tasks of her Council was the formal petitioning to the Holy See for the new Rule and Constitutions, a task that involved very tedious researching and collating of the necessary documentation. Approval from Rome came in 1930.
In 1917 Sister M. Philippa's Council opened two new foundations – Holy Name of Mary Convent in Marystown and Immaculate Conception Convent on Bell Island. When she had completed two terms of office, Sister M. Philippa began serious work on a project dear to her heart – writing the history of the Congregation for the 1842 centennial year. Illness prevented her from completing this work, but in the Archives of the Sisters of Mercy of Newfoundland there are notations compiled by her on the foundations made from 1842 to 1922. Several of her letters are also preserved in our Archives.
This cultured and learned woman is remembered for her natural amiability, artistic skill, literary talent, administrative abilities and her dedicated service to the Congregation.  She died at Belvedere on November 4, 1941 at the age of seventy-five years.
Bedelia Josephine Hanley, llegó a St. John's desde Irlanda en el verano de 1885 para entrar en las Hermanas de la Misericordia, fue recibida en el noviciado como Hermana Mary Philippa Joseph en marzo de 1886.
Pasó los primeros años de su vida religiosa en el convento de San Miguel, Belvedere, y en 1904 fue destinada a la Academia de Santa Novia, donde enseñó a estudiantes de magisterio y a alumnas de último curso. Cuatro años más tarde fue trasladada al convento del Sagrado Corazón de San Lorenzo, donde se hizo querer tanto por los alumnos como por los padres. A su regreso a Belvedere en 1910, asumió las responsabilidades de superiora y maestra de novicias.
Cuando los Conventos de la Misericordia de Terranova se fusionaron en 1916, el Arzobispo P.J. Roche nombró el primer Consejo General de la nueva Congregación de las Hermanas de la Misericordia de Terranova por un período de tres años. Sor M. Philippa fue miembro de ese primer Consejo y en 1919 fue elegida para el cargo. Cuando Sor M. Bridget O'Connor no pudo ser reelegida en 1925, Sor M. Philippa fue elegida Madre General por unanimidad. Una de las primeras tareas de su Consejo fue la petición formal a la Santa Sede de la nueva Regla y Constituciones, tarea que supuso una tediosa labor de investigación y recopilación de la documentación necesaria. La aprobación de Roma llegó en 1930.
En 1917, el Consejo de Sor M. Philippa abrió dos nuevas fundaciones: el Convento del Santo Nombre de María en Marystown y el Convento de la Inmaculada Concepción en Bell Island. Cuando terminó sus dos mandatos, Sor M. Philippa empezó a trabajar seriamente en un proyecto muy querido para ella: escribir la historia de la Congregación para el centenario de 1842. La enfermedad le impidió terminar este trabajo, pero en los Archivos de las Hermanas de la Misericordia de Terranova hay anotaciones compiladas por ella sobre las fundaciones realizadas desde 1842 hasta 1922. También se conservan en nuestros Archivos varias de sus cartas.
Esta mujer culta y erudita es recordada por su amabilidad natural, su habilidad artística, su talento literario, sus habilidades administrativas y su dedicado servicio a la Congregación. Falleció en Belvedere el 4 de noviembre de 1941 a la edad de setenta y cinco años.