November 11, 2019
Sacred Garden at Baggot Street – Holder of Holiness
11 November 2019
This September we joined with many Sisters of Mercy, Associates and others around the world to celebrate the 25th Anniversary of Mercy International. The renovation of our founding house at 64A Baggot Street and its establishment as a Mercy Centre for pilgrimage, heritage, hospitality and spirituality has proven to be a blessing for Sisters of Mercy around the world, for our colleagues and for many of us personally. This year we celebrate twenty-five years! We are definitely an international group connected by our common history, heritage and spirituality!
So now in September 2019, the 192th anniversary of the opening of the House of Mercy, the sacred garden at Baggot Street has been renewed and re-dedicated with blessing and celebration. The presence of so many Sisters of Mercy, Associates and colleagues (in person and via modern technology) was definitely an unprecedented international celebration throughout the Mercy world! We are delighted that Patricia, Monica and Elizabeth had prominent roles in these celebrations!
In 1841 shortly after her death, Catherine McAuley was buried in the convent garden at Baggot Street thus making it sacred and holy ground. The next Sister of Mercy to be buried there, one month after Catherine, was Anne Fleming (Sr. Mary Justina), niece of Bishop Fleming. Anne was in the novitiate at Baggot Street and professed on the same date, August 19, 1841, as Marianne Creedon (Sr. M. Francis), Foundress of the Mercy community in Newfoundland. We know that Francis was present with Catherine in her dying and would have been part of the prayer and burial in that garden as well as the burial of her novitiate companion, Justina Fleming, soon after. Bishop Fleming was in Dublin in November 1841 and we might surmise that he was present at Catherine's funeral and burial and perhaps, the burial of his niece! Thus the garden at Baggot Street takes on additional meaning and significance to us here in Newfoundland.
We have been offered a virtual visit to the garden:Remembering in the Sacred Garden, Baggot Street in this video:
Let us take a few moments to go to the garden at Baggot Street in Dublin, to think about Catherine McAuley, Justina Fleming and the other sisters buried there. Let us think about the hundreds of Sisters of Mercy buried in sacred grounds around the world. Let us remember them with gratitude and love. Let us remember Associates and colleagues who have died.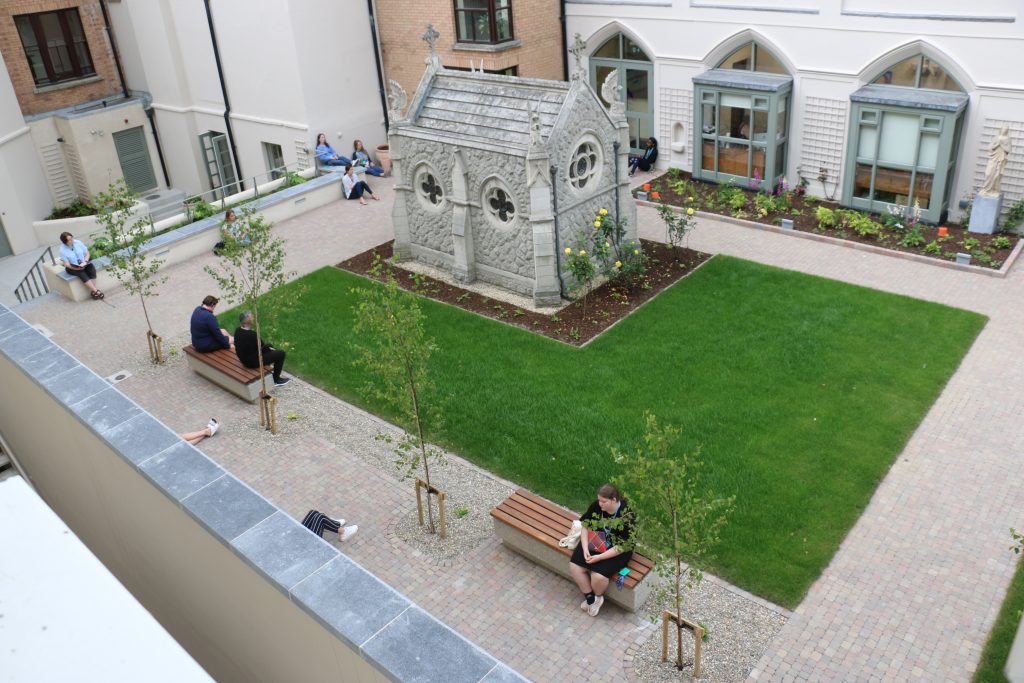 Also, on this November 11 we are called to remember men and women who died in the two World Wars! We remember them!
Photos: Anne Walsh