June 17, 2011
On June 9, 2011 the newly-renovated chapel of St. Clare's Mercy Hospital was re-opened following closure for renovations.   The event was set within a context of praise and gratitude and was attended by many guests, staff and volunteers at the hospital.
Following a welcome by Sister Diane Smyth, manager of pastoral care and ethics, there was a short overview of the history of the chapel. The reading chosen for the occasion was taken from Revelation 21:1-3.   The assembly responded with the singing of Psalm 84 "How lovely is Your dwelling place, O Lord of Hosts."   Sister Elizabeth Davis, Congregational Leader, gave a beautiful reflection on the sacredness of space, noting how the chapel at St. Clare's has been such a source of blessing over the past sixty years.   Since the chapel is dedicated to Our Lady of Mercy, the soloist gave a lovely rendition of Schubert's 'Ave Maria'. A reception followed during which guests, staff and volunteers could reminisce and simply marvel at the beauty of the place.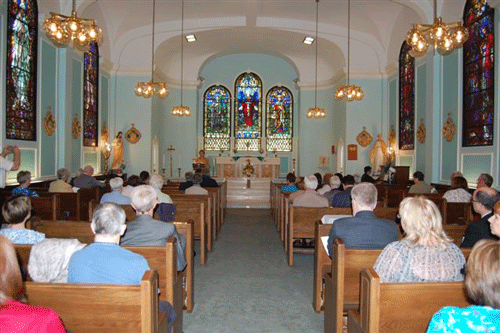 The original chapel opened in 1950. Unique features of it are 14 beautiful stained glass windows designed by Earley, Dublin,  marble sanctuary, altar, tabernacle and altar rail, all donations from various individuals of the area. 
St. Clare's community is pleased to see the chapel in use again. May it continue to be a place of blessing for all, a place of worship, soli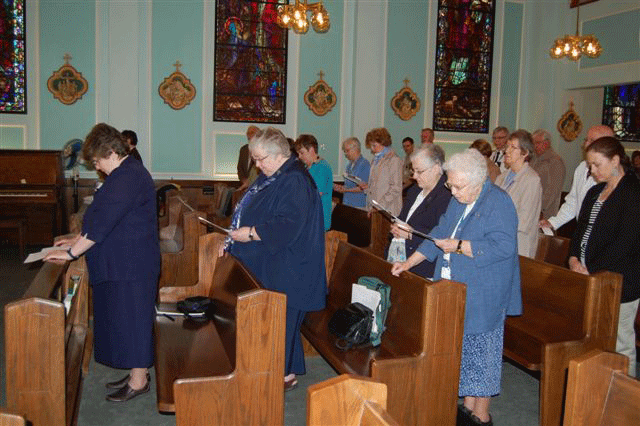 tude, reflection and prayer.