September 28, 2012
The heavens are telling the glory of God
And all creation is singing for joy
Come dance in the forest, come play in the field
And sing, sing to the glory of the Lord.
The words of this song ringing out with great gusto captured the spirit of joyful praise and gratitude of all who celebrated with Sister Marie Etheridge her Perpetual Profession of Vows as a Sister of Mercy.
On September 21, 2012 Mercy Sisters and Associates, Marie's family members, co-workers and many friends gathered at Corpus Christi Church, Kilbride for the Eucharistic Celebration of her Final Profession. Archbishop Martin Currie presided at the Liturgy. Bishop Peter Hundt, Archbishop Alphonsus Penney and Father David Joy assisted.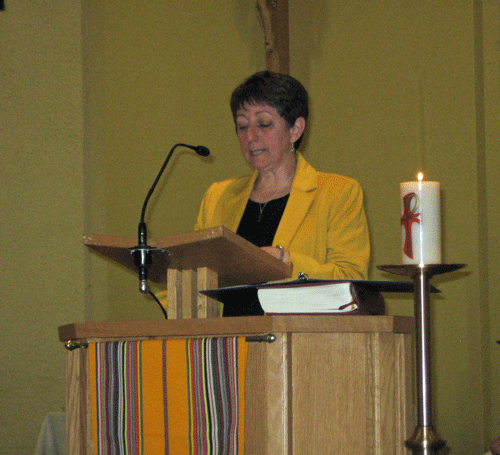 There were many memorable moments in the Liturgy. Echoes of Catherine McAuley's words were threaded throughout the Eucharistic Prayer, making her presence palpable among us. Sister Elizabeth Davis spoke of Marie's profession as "the making of a covenant of love and faithfulness and mercy between a woman and her God." Elizabeth included Marie among those young women whom Catherine McAuley praised when she said about them, "They renew my spirit greatly – fine creatures fit to adorn society, coming forward joyfully to consecrate themselves to the service of the poor for Christ's sake. This is some of the fire He cast on the earth – kindling." Elizabeth alluded to the motto on Marie's ring, "Here I am, Lord" quoting from the day's Psalm 40, "You do not ask for holocaust and victim, instead here am I."
Marie had chosen a sunny yellow jacket as part of her Profession dress and it reflected well her disposition as she stood and professed her Vows, "joyfully" committing herself to the service of God's people. Following Marie's Act of Profession we all awaited the moment for the blessing and reception of her Pr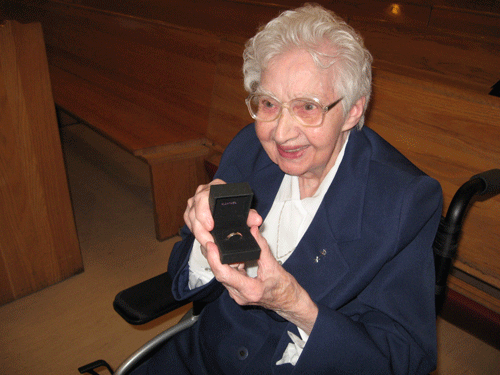 ofession ring. And what a poignant moment that was! Our oldest Sister of Mercy and dear friend of
Marie, Sister Mary Thomasine McHugh, sitting in her wheelchair and smili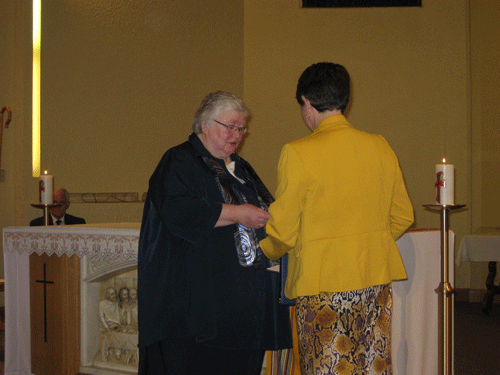 ng sweetly, proudly held up Marie's ring for the Archbishop's blessing. Sister Elizabeth Davis then presented the ring to Marie as the symbol of God's fidelity to her and of Marie's commitment in her covenant relationship with God.
The spirit of jubilation carried over from the Eucharistic Banquet to the Reception Hall where great rejoicing was the order of the evening.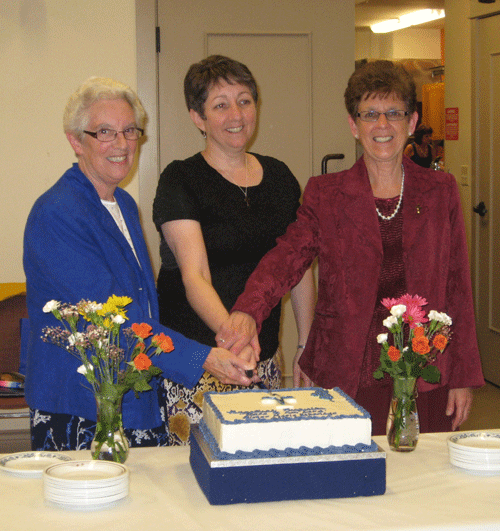 Indeed Marie's Profession was an occasion when we could sing and sing again to the glory of the Lord.
Submitted by Sister Maureen O'Keefe