November 29, 2022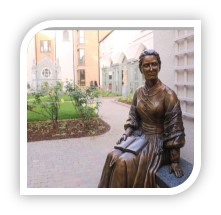 12 December 1831  marks the date on which Catherine McAuley and her companions, Anna Maria Doyle and Elizabeth Harley, returned to Baggot Street from the Presentation Convent at Georges Hill, having just professed their vows as the first Sisters of Mercy. And so began the story of the Congregation of the Sisters of Mercy,  brought to Newfoundland on 3 June 1842, the first foundation of the Sisters of Mercy in the New World.
Join us in celebrating this special date in the Mercy story using the prayer reflection prepared for the occasion.
El 12 de diciembre de 1831 marca la fecha en que Catalina McAuley y sus compañeras, Anna María Doyle y Elizabeth Harley, regresaron a Baggot Street desde el Convento de la Presentación en Georges Hill, tras haber profesado sus votos como las primeras Hermanas de la Misericordia. Así comenzó la historia de la Congregación de las Hermanas de la Misericordia, llevada a Terranova el 3 de junio de 1842, la primera fundación de las Hermanas de la Misericordia en el Nuevo Mundo.
Acompáñanos en la celebración de esta fecha especial en la historia de la Misericordia utilizando la reflexión de la oración preparada para la ocasión.
Prayer/reflection for Foundation Day 2022
Oración/reflexión para el día de la fundación