September 20, 2017
The Mercy Family has been asked by the Postulator for the Cause of Catherine McAuley's Canonisation, Sr Brenda Dolphin, for continued support of prayers for a diocesan inquiry into an alleged miracle of healing through Catherine's intercession. The task of the Postulator is to guide the case (cause) for canonisation through the processes required.
---
In October a diocesan process of inquiry will begin in Tulsa, Oklahoma, USA to gather materials about an alleged healing through Catherine's intercession. It is hoped that the proceedings will be finished in November.
Sr Brenda writes: 'This is the first time we have proceeded to a diocesan inquiry and while we cannot be certain that this will lead to beatification we continue to keep faith and trust in the power of God and the intercessory power of Catherine McAuley.'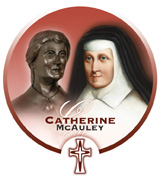 She then continues: 'We are very grateful to each and every one of you for the constant support of your prayers and for the marvellous way by which you give witness to Catherine McAuley's fame for holiness which is very evident and continues to spread to so many places throughout the world.'
The Sisters of Mercy Newfoundland thank you for the support of your prayers for this inquiry.
We invite you to post a prayer in our online chapel
Download and share this invitation for prayer support:
English: A4 Paper Size (PDF); US Letter Size (PDF)
Spanish: A4 Paper Size (PDF); US Letter Size (PDF)