December 31, 2022
In his message this year for January 1, the World Day of Peace, Pope Francis speaks to both the COVID pandemic and the war in the Ukraine as he answers the question, "What is being asked of us?":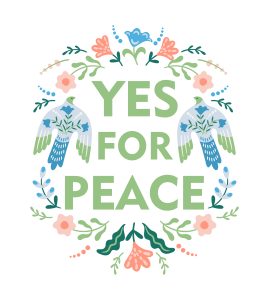 What then is being asked of us? First of all, to let our hearts be changed by our experience of the [pandemic] crisis, to let God, at this time in history, transform our customary criteria for viewing the world around us. We can no longer think exclusively of carving out space for our personal or national interests; instead, we must think in terms of the common good, recognizing that we belong to a greater community, and opening our minds and hearts to universal human fraternity. We cannot continue to focus simply on preserving ourselves; rather, the time has come for all of us to endeavour to heal our society and our planet, to lay the foundations for a more just and peaceful world, and to commit ourselves seriously to pursuing a good that is truly common.
In order to do this, and to live better lives after the Covid-19 emergency, we cannot ignore one fundamental fact, namely that the many moral, social, political and economic crises we are experiencing are all interconnected, and what we see as isolated problems are actually causes and effects of one another. Consequently, we are called to confront the challenges of our world in a spirit of responsibility and compassion. ..
En su mensaje de este año para el 1 de enero, Jornada Mundial de la Paz, el Papa Francisco se refiere tanto a la pandemia del COVID como a la guerra en Ucrania al responder a la pregunta "¿Qué se nos pide?":
¿Qué se nos pide, entonces, que hagamos? En primer lugar, dejarnos cambiar el corazón por la emergencia que hemos vivido, es decir, permitir que Dios transforme nuestros criterios habituales de interpretación del mundo y de la realidad a través de este momento histórico. Ya no podemos pensar sólo en preservar el espacio de nuestros intereses personales o nacionales, sino que debemos concebirnos a la luz del bien común, con un sentido comunitario, es decir, como un "nosotros" abierto a la fraternidad universal. No podemos buscar sólo protegernos a nosotros mismos; es hora de que todos nos comprometamos con la sanación de nuestra sociedad y nuestro planeta, creando las bases para un mundo más justo y pacífico, que se involucre con seriedad en la búsqueda de un bien que sea verdaderamente común.
Para lograr esto y vivir mejor después de la emergencia del COVID-19, no podemos ignorar un hecho fundamental: las diversas crisis morales, sociales, políticas y económicas que padecemos están todas interconectadas, y lo que consideramos como problemas autónomos son en realidad uno la causa o consecuencia de los otros. Así pues, estamos llamados a afrontar los retos de nuestro mundo con responsabilidad y compasión. ..