January 30, 2023
February 1st is known as La Fheile Bride in Ireland or Saint Brigid's Day. Brigid is one of our most beloved congregational patron saints.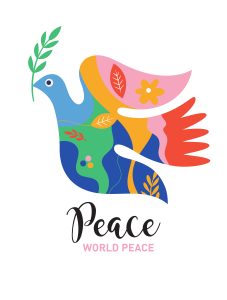 This year, Into Kildare, the Tourism Board for County Kildare and Solas Bhríde Spirituality Centre & Hermitages have jointly launched a global 'Pause for Peace' movement.  Pause for Peace will see the residents of County Kildare (Ireland) calling on people all around the world to stop for a minute's silence at 12.00 noon (local time) on  St Brigid's day, the 1st of February 2023.
Sr. Rita Minehan csb of Solas Bhríde said, "This movement for a Pause for Peace sets the scene for marking the new national holiday in honour of St Brigid on February 6th. It reflects a spiritual underpinning to the holiday and is consonant with the value of peace which Brigid stood for in her time."
She went on the say, "By pausing for peace, we send out a message that we actively oppose warfare and the proliferation of arms, which wreak havoc on human beings as well as on the natural world. This movement aims to awaken and build a spirit of global solidarity in our search for peace. It would be a fitting tribute to Saint Brigid and to all our ancestors if it were marked with a Pause for Peace on her feast-day, February 1st each year.
Reflection for the Feast of St Brigid
Reflexión para la fiesta de Santa Brígida
El 1 de febrero se conoce en Irlanda como La Fheile Bride o Día de Santa Brígida. Brígida es una de las patronas más queridas de nuestra congregación.
Este año, Into Kildare, la Oficina de Turismo del Condado de Kildare y Solas Bhríde Spirituality Centre & Hermitages han lanzado conjuntamente el movimiento mundial "Pausa por la Paz".  Los residentes del condado de Kildare (Irlanda) harán un llamamiento a las personas de todo el mundo para que guarden un minuto de silencio a las 12.00 (hora local) del día de Santa Brígida, el 1 de febrero de 2023.
La Hna. Rita Minehan csb de Solas Bhríde dijo: "Este movimiento por una Pausa por la Paz prepara el escenario para marcar la nueva fiesta nacional en honor de Santa Brígida el 6 de febrero. Refleja la base espiritual de la fiesta y está en consonancia con el valor de la paz que Brigid defendió en su tiempo".
Al hacer una pausa por la paz, enviamos el mensaje de que nos oponemos activamente a la guerra y a la proliferación de armas, que causan estragos tanto en los seres humanos como en el mundo natural. Este movimiento pretende despertar y construir un espíritu de solidaridad mundial en nuestra búsqueda de la paz. Sería un justo homenaje a Santa Brígida y a todos nuestros antepasados si se celebrara una Pausa por la Paz el día de su festividad, el 1 de febrero de cada año.