December 9, 2015
The Holy Door of Mercy of the Archdiocese of St. John's, Newfoundland and Labrador was opened at the Eucharistic Liturgy celebrating Mary, December 8 at 7:00 p.m.
Archbishop Martin Currie knocked on the door with the request that it be opened. Many priests, Archbisbop Emeritus, Alphonsus Penney, men, women, youth and children participated in the celebration. Sister Rosemary Ryan was server and Elizabeth Marrie did the second reading.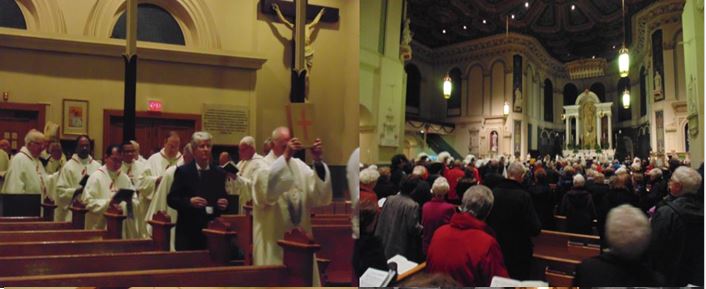 The Holy Door faces the Gathering Place, a ministry of the Presentation and Mercy Sisters established for the poor, homeless and others seeking nourishment of body, mind and spirit, and those calling forth a response mandated by the corporal and spiritual works of mercy. The Holy door also looks out over the entrance to St. John's Harbour and the hills surrounding the city – the beauty of nature in its majesty and simplicity. It is through this harbour that the first three Sisters of Mercy, Ursula Frayne, Rose Lynch and Francis Creedon, arrived from Baggot Street on June 3, 1842.
Many Sisters of Mercy and their associates, family and friends participated in the historic event – the proclamation of the opening of the Jubilee Year of Mercy and the opening of the Holy Door of Mercy. This will indeed be a special year, rich in mercy.