October 1, 2006
Recently Sister Kathrine Bellamy was honored for her dedicated and outstanding service to the Basilica-Cathedral of St. John the Baptist, St. John's, Newfoundland and Labrador.
S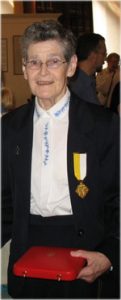 ister Kathrine was one of two recipients of the Papal Honour of the Cross, Pro Ecclesia et Pontifice, during the parish celebration of the Liturgy of the Eucharist on Sunday, September 10, 2006.
Before the presentation of the medal and the certificate by Archbishop O'Brien, it was noted that Sister Kathrine had been central to the music ministry of the Basilica-Cathedral, having served as music coordinator, choir director and organist for parish functions and parish liturgies for twenty-four years. Presently she continues to be organist for one of the weekend liturgies in the parish and uses her gifts and talents in the service of the Archdiocese and the parish by composing sacred music for liturgies. One of her recent compositions was that of music for the Proclamation of the 150th anniversary of the Cathedral celebrated in 2005.
Of particular mention, was her concern, care and ministry to the poor. In 1980 Sister Kathrine became director of Outreach to the Poor of the Basilica Parish, of which one division was the Family Care Centre. In 1994 she initiated an ecumenical endeavour, whereby two Roman Catholic and three Anglican parishes united in their efforts to form Emmaus House, an interdenominational Centre serving the poor of the area.
Following the Liturgy, a Reception was held in the Episcopal Library where the Hospitality Committee of the Basilica Parish served refreshments and many parishioners and Sisters of Mercy came to express gratitude and congratulations.
Recientemente, la Hermana Kathrine Bellamy fue honrada por su dedicado y destacado servicio a la Basílica-Catedral de San Juan Bautista, St. John's, Terranova y Labrador.
Sister Kathrine fue una de las dos galardonadas con la condecoración papal de la Cruz, Pro Ecclesia et Pontifice, durante la celebración parroquial de la Liturgia de la Eucaristía el domingo 10 de septiembre de 2006.
Antes de la entrega de la medalla y del certificado por parte del Arzobispo O'Brien, se señaló que la Hermana Kathrine había sido fundamental en el ministerio musical de la Basílica-Catedral, habiendo ejercido como coordinadora musical, directora del coro y organista de las funciones parroquiales y de las liturgias parroquiales durante veinticuatro años. Actualmente sigue siendo organista de una de las liturgias de fin de semana de la parroquia y utiliza sus dones y talentos al servicio de la Archidiócesis y de la parroquia componiendo música sacra para las liturgias. Una de sus composiciones más recientes fue la música para el Pregón del 150 aniversario de la Catedral, celebrado en 2005.
Mención especial merece su preocupación, cuidado y ministerio con los pobres. En 1980, la Hermana Kathrine se convirtió en directora de la Ayuda a los Pobres de la Parroquia de la Basílica, una de cuyas divisiones era el Centro de Atención Familiar. En 1994 inició un esfuerzo ecuménico, por el que dos parroquias católicas romanas y tres anglicanas unieron sus esfuerzos para formar Emmaus House, un centro interconfesional al servicio de los pobres de la zona.
Tras la Liturgia, se celebró una Recepción en la Biblioteca Episcopal donde el Comité de Hospitalidad de la Parroquia Basílica sirvió refrescos y muchos feligreses y Hermanas de la Misericordia acudieron a expresar su gratitud y felicitaciones.