May 30, 2011
On June 3, 1842 a sailing schooner, the Sir Walter Scott, entered the harbour of St. John's, Newfoundland.  On the wharf were Bishop Michael Anthony Fleming  and many townspeople excited to welcome three Sisters of Mercy who were to establish the first foundation of the Mercy Order in the "new world."  The three women from Baggot Street had left Kingstown Harbour on May 2 for the difficult and dangerous crossing of the north Atlantic.  Who were these three courageous Sisters of Mercy?  They were Sisters Ursula Frayne, Rose Lynch and Francis Creedon.
This is part of the story of that foundation and of Sister Francis Creedon who is upheld by the Newfoundland Sisters of Mercy of Newfoundland as founder.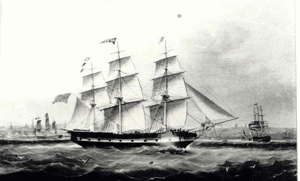 This year 2011 marks the 200th anniversary of Marianne Creedon's birth in Coolowen, County Cork.  Sr. Charlotte Fitzpatrick has provided us with this reflection on Francis Creedon in honour of this anniversary.

(June 2011)
Reflection on Sister Mary Francis Creedon
Foundress of the Sisters of Mercy of Newfoundland, on the 200th anniversary of her birth
Two hundred years ago this year in County Cork, Ireland, Marianne Creedon, known to us as Sister Francis Creedon, was born. We know little about Marianne's early life, but we do know that her adult life was one of service and unwavering fidelity in the face of seemingly insurmountable obstacles.
Marianne's call to Mercy came through a circuitous route. She left her native Ireland just a couple of years after the foundation of the Sisters of Mercy, and it is likely that she was not even aware of this event that was to impact her life so significantly. Arriving in St. John's with her sister's family, the Nugents, in 1833, she dedicated herself to caring for the four Nugent children and helped support the family by teaching music. Her own experience of life in St. John's and her conversations with Bishop Fleming, a long-time friend of the Nugent family, opened her eyes to the deep gaps in Catholic education and to the sad plight of the sick poor in her adopted homeland.
The bishop was determined to find a community of nuns who would be able to respond to these very urgent needs of his people. Hearing of the great work being done by the newly-established Order of Mercy in Ireland and learning that they were not bound by the customary law of enclosure, he saw these sisters as ideally suited to his plans. He undoubtedly shared his hopes and his excitement with Marianne, who must have been moved by the bishop's zeal as well as by what she saw around her.
While we do not know the details or the sequence of what happened next, we know that Bishop Fleming met with Catherine McAuley, shared his dream with her and received a favourable response from her. We also know that Marianne Creedon, attentive to God's ways in her life, expressed her desire and availability for this mission to the people of Newfoundland.
In 1839 Marianne left for Dublin to make her novitiate with Catherine McAuley, with the express purpose of establishing the Order of Mercy in Newfoundland. Professed in 1841, she was ready for her mission, but the foundation plans were delayed because of Catherine's death in November of that year. This delay must have been a disappointment for the newly-professed Sister Mary Francis, but she remained steadfast and continued ministry at Baggot Street until May of 1842.
What sort of woman was Sister Mary Francis Creedon? Sisters who lived with her at Baggot Street spoke of her as an exemplary religious, loved and revered by all who knew her. They described her as sensitive and cultured, zealous and thoroughly unselfish. One sister referred to her "large-hearted friendship which was a blessing and support to those who enjoyed it." Another related that she was always happy to be appointed to visit the sick and perform other duties with Sister Mary Francis. From these recollections of her peers, preserved for us in Volume 111 of the Leaves of the Annals of the Sisters of Mercy, we get a glimpse of a very human, faith-filled, unassuming woman, gifted with the qualities of personality and spirit that enabled her to forge the beginnings of Mercy life and ministry in Newfoundland.
However, it was her thirteen years as a Sister of Mercy in nineteenth-century St. John's that tell us so much more about this steadfast woman, whom we are privileged to call our Newfoundland founder. Of the three pioneer sisters who arrived in St. John's on June 3, 1842, only Sister M. Francis would have known what she was coming to. Although she would have the joy of being reunited with her family and friends, she also knew firsthand some of the difficulties the new community would have to face – the isolation and loneliness ; the rigors of the Newfoundland climate; the flimsy, crowded tenements they would visit regularly; the poverty and disease that would daily surround them. But not even she could have forseen some of the tensions, obstacles and sufferings that would be part of this new venture and that would test the very foundations of her call and the mission of Mercy, to which she had committed her life. Among these were:
The pain of being caught in the middle between Bishop Fleming, her friend and Sister Ursula Frayne, the named superior of her community
 The conflict in community surrounding the acceptance of Sister Joseph Nugent, her brother-in-law's sister
The return to Ireland of Sisters Ursula and Rose just six months after their first school opened
The unwillingness of the Baggot Street sisters to send help to the fledgling foundation
The devastation of the Great Fire of 1846
  The typhus epidemic of 1847 and the constant call of the sick for help and consolation
  The death of Sister Joseph Nugent in June 1847, leaving her to carry on alone
The loneliness, isolation and concerns of the following year when she kept school open, taught music and visited the sick
The death of her friend and mentor, Bishop Fleming in 1850
The cholera epidemic of 1854 which left many children orphaned, and which led to the establishment of the Immaculate Conception Orphanage at Mercy Convent
Her "wearing out" at the age of 43 years
In the midst of all this seeming turmoil and suffering, what made Sister Francis stay? She was urged by many of her friends to give up the mission. Mother Agnes O'Connor, her friend from novitiate days, invited her to join her in New York. Yet she stayed …
What soul-searching went on in her?
How did she perceive God's action in all of this pain and uncertainty?
What sustained her at these times?
What helps you to remain faithful when all seems confusing, uncertain, hopeless …?
Sister M. Francis Creedon was undoubtedly a woman of profound faith, of indomitable courage and determination, a woman who trusted in the God Who had called her, a woman convinced of the action of God in her life and in the mission entrusted to her. She likely had her doubts, fears, questions, her times of wondering what God was doing, but the urgency of the mission impelled her, keeping her available, pliable, compassionate and hopeful in situations where hope seemed frail, sometimes even futile. In some of those dark times, she likely would have called to mind some of Catherine's teachings while she was a novice at Baggot Street, taking comfort in their message.
Had Catherine not said that new foundations would not be without the cross, that the congregation was founded on Calvary to serve a crucified Redeemer?
Had Catherine not spoken often and passionately about the comfort of God's providential care, of the joy of a life centered in God, of the necessity of placing one's trust in God alone?
In her times of solitude, memories such as these must have surfaced in Sister Francis, bringing her hope and consolation, strengthening her for the incredible journey of faith she was living. Many times as she prayed at Mercy Convent, she must have fingered her beads, reliving the joyful, sorrowful and glorious mysteries of her own life, thanking God for the gift of her call to Mercy, believing that all was in God's hands, and that the fruit of her labours would come in God's own time. Her call, her life, her ministry of Mercy is a gift to us, a treasure to be claimed and cherished as we remember and celebrate her on June 3 this year.
As you reflect on Francis' life, what stands out for you?
What gift is she giving you today?
What gift of Mercy will you pass on to others?
The roads of Mercy are long and deep,
wondrous wise and never-ending.
The roads of Mercy are questing tracks of the Spirit;
they are avenues of goodness;
they are pot-holed with need
and lined with compassion.
The roads of Mercy are the walkways of humanity,