May 31, 2023
Parts of the Canadian province of Newfoundland have a majority population which is genetically Irish going back almost 200 years, new research confirms.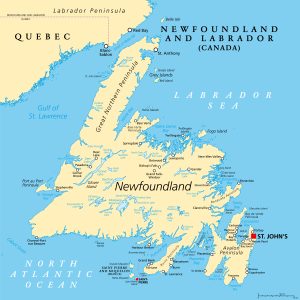 "Newfoundland is almost unique in having a settler population which has been barely diluted by further waves of migration.
Approximately 25,000 Irish and English emigrants came to the province in the late 18th and early 19th centuries, mostly due to the rich fishing grounds off the coast. As a result of its geographical isolation and economic setbacks, most of the descendants of people now living in Newfoundland are related to the original settlers.
Newfoundland has a population of just 500,000, though it is larger than the island of Ireland. A large majority of the population is based on the Avalon peninsula, which includes the capital St John's. By and large, the English settled on the north of the Avalon peninsula, with the Irish on the south…"
Read the rest of the article here. Source: The Irish Times
Read the stories of the Irish women in "Valiant Women" who crossed the Atlantic between 1842 and 1907 to the Mercy mission in Newfoundland.
Un nuevo estudio confirma que en algunas zonas de la provincia canadiense de Terranova la mayoría de la población es genéticamente irlandesa desde hace casi 200 años.
"Terranova es casi única por tener una población de colonos que apenas se ha diluido por nuevas oleadas migratorias.
Unos 25.000 emigrantes irlandeses e ingleses llegaron a la provincia a finales del siglo XVIII y principios del XIX, sobre todo por los ricos caladeros de la costa. Debido a su aislamiento geográfico y a los contratiempos económicos, la mayoría de los descendientes de los habitantes actuales de Terranova están emparentados con los colonos originales.
Terranova sólo tiene 500.000 habitantes, aunque es mayor que la isla de Irlanda. La mayor parte de la población vive en la península de Avalon, que incluye la capital, San Juan. En general, los ingleses se asentaron en el norte de la península de Avalon, y los irlandeses en el sur…"
Lea el resto del artículo en inglés aquí. Fuente: The Irish Times
Lea en "Valiant Women" en inglés las historias de las irlandesas que cruzaron el Atlántico entre 1842 y 1907 para llegar a la misión de la Misericordia en Terranova.