December 6, 2022
Each year on December 6, Canada observes this day, the anniversary of the Ecole Polytechnique Massacre in Montreal in 1989.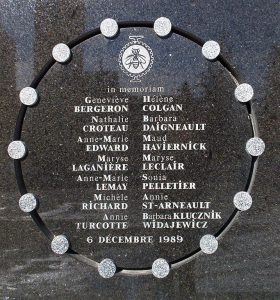 As we remember the women who were killed in that horrific act of violence, we are also reminded that violence is a daily reality for many girls, women and gender diverse people in Canada and all over the world.
This day is a reminder of the danger inherent in the power imbalance between men and women in Canada and worldwide. It is also a time to reflect on what we can all do through our words and our actions to end gender-based violence and to help create a society where everyone can feel safe, respected and welcomed.
El 6 de diciembre de cada año, Canadá celebra este día, aniversario de la masacre de la Escuela Politécnica de Montreal en 1989.
Placa conmemorativa de las víctimas de la masacre
Al recordar a las mujeres que murieron en aquel horrible acto de violencia, también se nos recuerda que la violencia es una realidad cotidiana para muchas niñas, mujeres y personas con diversidad de género en Canadá y en todo el mundo.
Este día es un recordatorio del peligro inherente al desequilibrio de poder entre hombres y mujeres en Canadá y en todo el mundo. También es el momento de reflexionar sobre lo que todos podemos hacer con nuestras palabras y nuestros actos para poner fin a la violencia de género y contribuir a crear una sociedad en la que todos puedan sentirse seguros, respetados y acogidos.