May 5, 2023
Today, May 5 is the National Day of Mourning for Missing and Murdered Indigenous Women and Girls, often called Red Dress Day.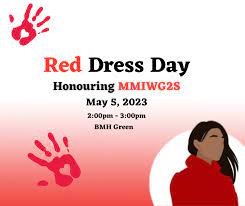 In Canada Indigenous women and girls are targeted for violence more than any other group. More than 4000 Indigenous women and girls have gone missing or been murdered in the last 30 years – an appalling statistic! Canada's National Inquiry into this tragic history called upon all governments – national, provincial, territorial and indigenous – to work together to build an effective and accountable National Action Plan to address this crisis. Indeed, there is an urgent need for all Canadians to make efforts to raise awareness of this Canada-wide tragedy and to do whatever we can to make Canada a country for all Canadians.
Today let us remember in prayer all the victims of gender-based violence, as well as all their families and communities whose lives have been forever altered by the loss of loved ones.
Hoy, 5 de mayo, es el Día Nacional de Luto por las Mujeres y Niñas Indígenas Desaparecidas y Asesinadas, a menudo llamado Día del Vestido Rojo.
En Canadá, las mujeres y niñas indígenas son objeto de violencia más que ningún otro grupo. Más de 4.000 mujeres y niñas indígenas han desaparecido o han sido asesinadas en los últimos 30 años, ¡una estadística espantosa! La Investigación Nacional de Canadá sobre esta trágica historia hizo un llamamiento a todos los gobiernos -nacional, provincial, territorial e indígena- para que trabajen juntos en la elaboración de un Plan de Acción Nacional eficaz y responsable para hacer frente a esta crisis. De hecho, es urgente que todos los canadienses se esfuercen por concienciar sobre esta tragedia que afecta a todo Canadá y que hagan todo lo posible para que Canadá sea un país para todos los canadienses.
Recordemos hoy en la oración a todas las víctimas de la violencia de género, así como a todas sus familias y comunidades cuyas vidas se han visto alteradas para siempre por la pérdida de seres queridos.