March 24, 2023
Today concludes 2023 UN Water Conference (March 22-24).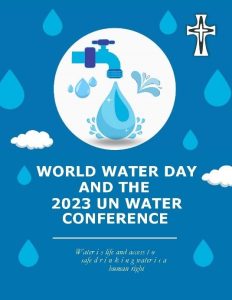 At the UN, Mercy Global Action is promoting a Mercy Water Campaign to strengthen a more unified voice in the Mercy World, in solidarity with our partners and water defenders in the water justice movement, to protect and promote the human right to water, and the rights-based implementation of SDG6 (clean water and sanitation).
The Mercy World is concerned about the universal need for equitable access to safe and affordable drinking water as opposed to the commodification and privatization of water. We promote integrated management of the various sources, functions and uses of water, from an ecosystemic perspective and a human rights-based approach.
Download information about the Mercy Water Campaign.