McAuley Convent was opened in 1991 to provide a residence and center of care of the sick and infirm members of our congregation.
This modern and tastefully decorated building is built into the hillside of the Littledale property in the Waterford River valley in the west end of St. John's. Every floor of the three-storey building has a ground level entrance. The center courtyard, which can be viewed from every room on the back of the building and which can be entered from the community room, is lavishly landscaped with flowers, shrubs and trees. Sisters can safely walk around the garden or sit in the swing chairs or other chairs that are provided. A statue of Mary stands at the centre of the garden and the Stations of the Cross are located on one side of the garden.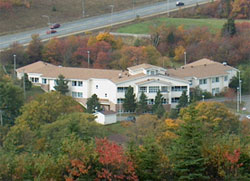 There are three other smaller community rooms for different groups of sisters, including one for the sisters who are part of the staff at McAuley Convent. In addition to this there are two large dining rooms, individual bedrooms, a physio-therapy room and a few multi-use rooms for arts and crafts, games, meetings or solitude. A very large kitchen, storage and laundry take up the lowest floor of the building. The crown of the building is the beautiful chapel with a wall of windows that look out to the Southside Hills of the Waterford Valley. The Sisters are blessed to have mass celebrated every morning and those who cannot go to the chapel may hear the celebration in their bedrooms.
Besides being the residence for sisters who need care in their old age, McAuley is a place of recuperation for sisters who have surgery or injury that requires more care than is available in their own convent. Our sisters are given the best of care and receive wonderful attentiveness from the many lay staff and sisters. Some have lived to see 100 years or more. When a sister is dying the sisters who are able, keep day and night vigil. Sisters are prayed into God's kingdom at the end of their lives.
McAuley Convent is a place of care, safety and nurturing; it is a place of faith, joy, freedom and celebration. It is a powerhouse of prayer for the many needs of individuals and for our world.