October 12, 2010
Approximately ninety Mercy and Presentation Sisters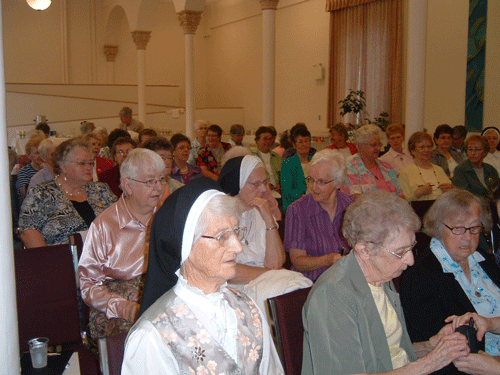 attended a very informative and inspirational event on October 2, 2010. In her welcoming remarks, Sister Elizabeth Davis quoted a definition of health which comes from the Australian aboriginal community, "Health does not just mean the physical well-being of the individual but refers to the social, emotional, spiritual and cultural well-being of the whole community. This is a whole-of-life view and includes the cyclical concept of life-death-life". 
The day consisted of presentations in four areas as follows: 'Healthy Living – Healthy Aging';  'Together We Care – Dementia'; 'Depression and Anxiety in the Aging'; 'Arthritis'.   Each of the presenters provided factual information, offered explanations and descriptions of various health issues, identified treatments, supports, and strategies. A particularly helpful element each one offered was information on how to access related resources. 
All indications are that the initiative was a tremendous success and that the Wisdom Circle is already considering its next step as it attempts to move forward with this recommendation, building on the day's experience.