February 11, 2010
February 11 is special for the Mercy Centre for Ecology and Justice. There are a few reasons that make this day so special.
This year February 11 was an occasion to welcome sisters to the newly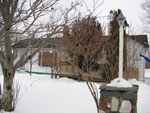 opened Centre. The building is located in area of the former parish of Our Lady of Lourdes at Mount Scio in St. John's. As the prayer of the day notes: "Water is a sacred gift, a necessity for life and a source of life. It is a sacred symbol that carries a profound sense of mystery and is a manifestation and experience of the sacred that has spoken to all peoples down through the ages. Water is the focus of devotion to the Virgin Mary at Lourdes and a source of healing at the shrine in France." Water from Lourdes was used in today's ritual.
The statue of Our Lady of Lourdes that was the centerpiece of the prayer service also has a fascinating story to tell. First of all, the bid to purchase the property at Mount Scio was made on February 11, 2009. Second, on the property there was a stone grotto lined by an old bath-tub, but the statue was missing.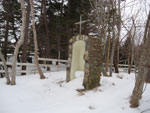 In the ensuing days the owner of the property told the committee who came to examine the house and land that a statue of Our Lady of Lourdes that was in the grotto had originally come from the local parish school, which had been administered by Sisters of Mercy, Our Lady of Lourdes School. The owner said that he had just recently offered the statue to one of the Mercy Convents because of the pending sale of the property.  A short while after that the sisters learned that the statue had been warmly and gratefully welcomed at McAuley Convent and would eventually be ensconced in the garden there. When the Mount Scio property was finally purchased plans were made that the statue would be sent back to be installed in the empty grotto. Our Lady of Lourdes has returned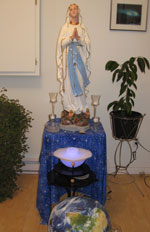 to her former abode. Through her intercession we pray that the Mercy Centre for Ecology and Justice will be blessed in its ministry in care for the earth and for all of creation and in its efforts to promote the cause for peace and justice locally and globally.   (The Centre is ideally located in Pippy Park, a huge green space in the center of St. John's.)